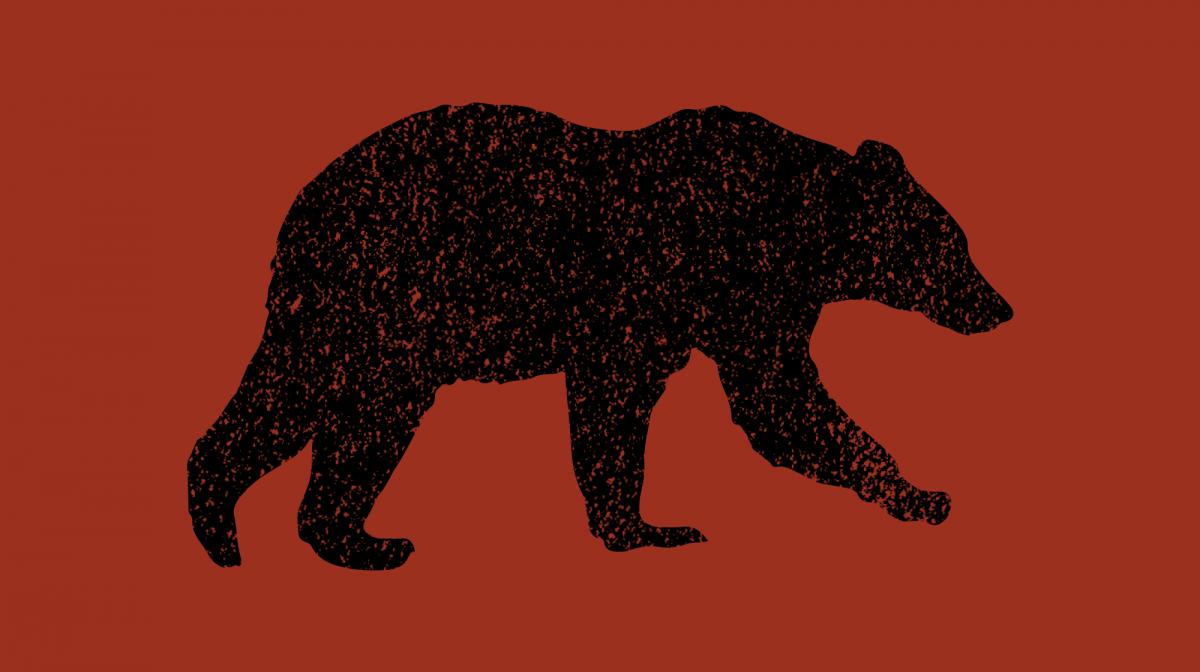 This actually isn't a story about a bear hunt. It is a story about even more sober things—like laws and ethics and God and that moment when you shape your character forever. But it begins with a bear hunt, so that's where we'll pick up the tale. I was elk hunting last year with a friend of mine; we were on a hillside near my "secret spot," fully concealed in camo, waiting for some elk action to begin, when I heard movement from downwind behind me. I slowly turned. There, on the other side of the aspens, was a large black bear—less than 10 yards away, walking towards me, sniffing the air.
Needless to say, I was shocked. I've been archery hunting in this area for close to a decade, and I've never had a bear come in on me before. Count one thousand one, one thousand two… that's when I realized, I have a bear tag in my pocket.
This was my first year to get a bear tag. The week before I left to come hunting, a friend suggested I check to see if there might be any leftover bear tags for my unit. I figured it was simply good insurance to ensure I didn't have a bear encounter.
So there I was—standing with my bow in hand, facing a bear coming at me, with a bear tag in my possession. A tree blocked my shooting lane, so I stepped to the right and drew my bow. The bear started moving off, giving me a full broadside view; I sighted on her vitals and let the arrow fly. She ran up the hill next to me into the trees, and I could hear her crashing through the undergrowth. The sound stopped about 50 yards uphill.
I couldn't believe what had just happened. I had just arrowed my first big game animal, and a bear at that!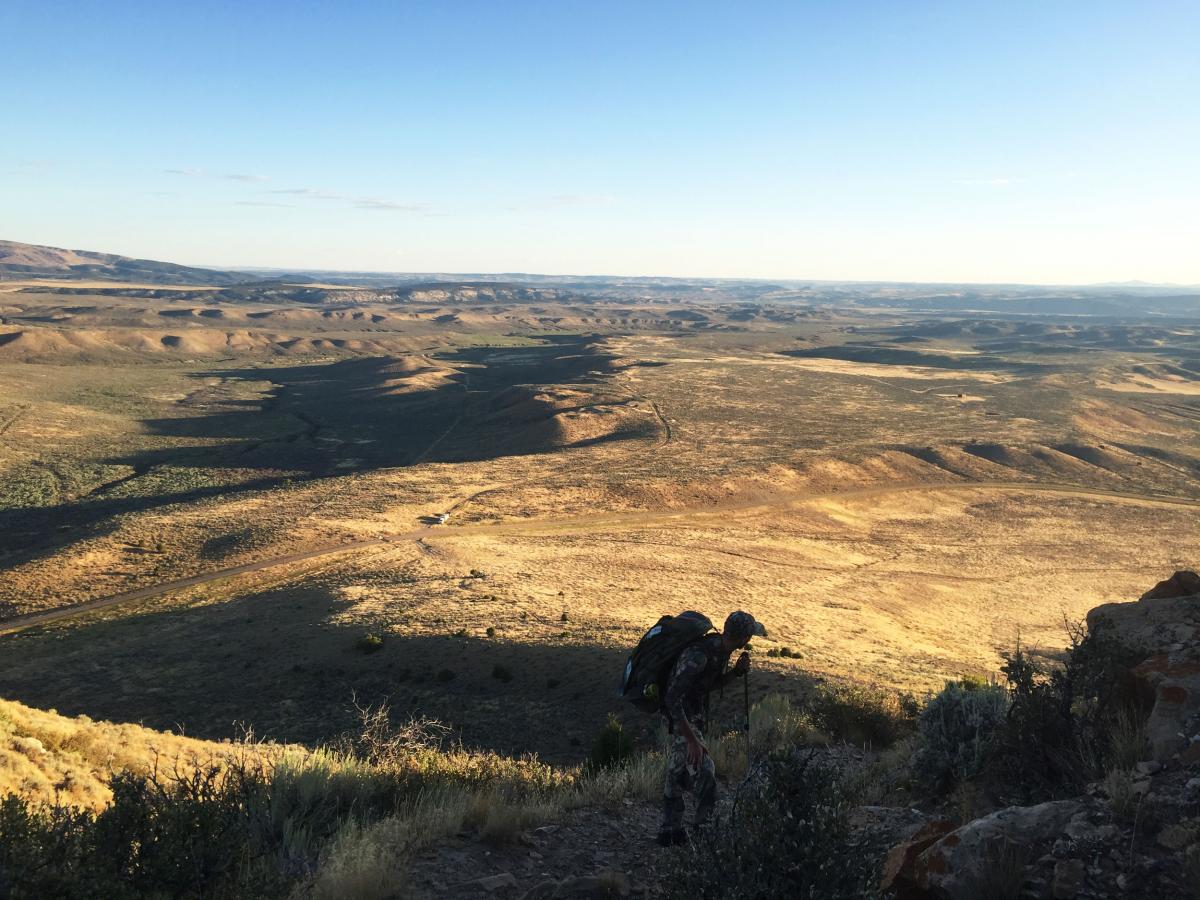 My partner, Cole, was 50 yards upwind and completely unaware of what had taken place just below him. He popped out from his hiding place when I called, a puzzled look on his face. Had I given up and wanted to call it quits already? He walked over and I told him what had happened, still hardly believing it myself. We found my arrow right where I expected it to be. It was coated in blood—a clean pass-through.
We were uncertain what to do next. I was, shall we say, more than a little concerned that we were going to be tracking a wounded bear. Not your ideal situation. As we talked it over, we concluded that the best thing we could do was give her plenty of time to expire without us pushing her farther away. We moved quietly back to our spike camp to grab our large packs, knives, and bear spray (another last minute purchase). After waiting a couple of hours, we hiked back down to where I'd taken the shot.
It didn't take us long to pick up a strong trail in the brush on the hillside. I followed it through the thick undergrowth with an arrow on the string as Cole walked behind me, bear spray in hand. About 40 yards down the blood trail I saw her, piled up against a tree below me on the hill. I walked in on her at full draw just to be safe. She was clearly dead. Then all the conflicting emotions rushed in: the joy, the sobriety, even the sadness, then joy again. This was my first large game harvest. She was beautiful. I put my hand on her head and thanked her.
As I pulled out my phone to snap some photos, I noticed it had signal, so I sent a picture to my wife and a couple hunting buddies. Just as we settled into the long work of field-dressing a bear, my phone vibrated. My buddy Morgan—on his way out to hunt himself—had gotten my text. He was so excited for me. Congratulations and tears were shared over the phone. I asked him about field dressing the bear, and he texted me a sketch his taxidermist had given him. He wished me luck, and I promised to tell him the whole story when we were both back from hunting.
About 15 minutes later, my phone rang again. It was Morgan. "How's it going?" he asked. I filled him in on our progress.
"Jon—have you looked at the date on your tag?"
I hadn't pulled out the tag yet. "No, why?" I asked. After four days in the woods, I wasn't even sure what day it was.
"Bear season starts tomorrow."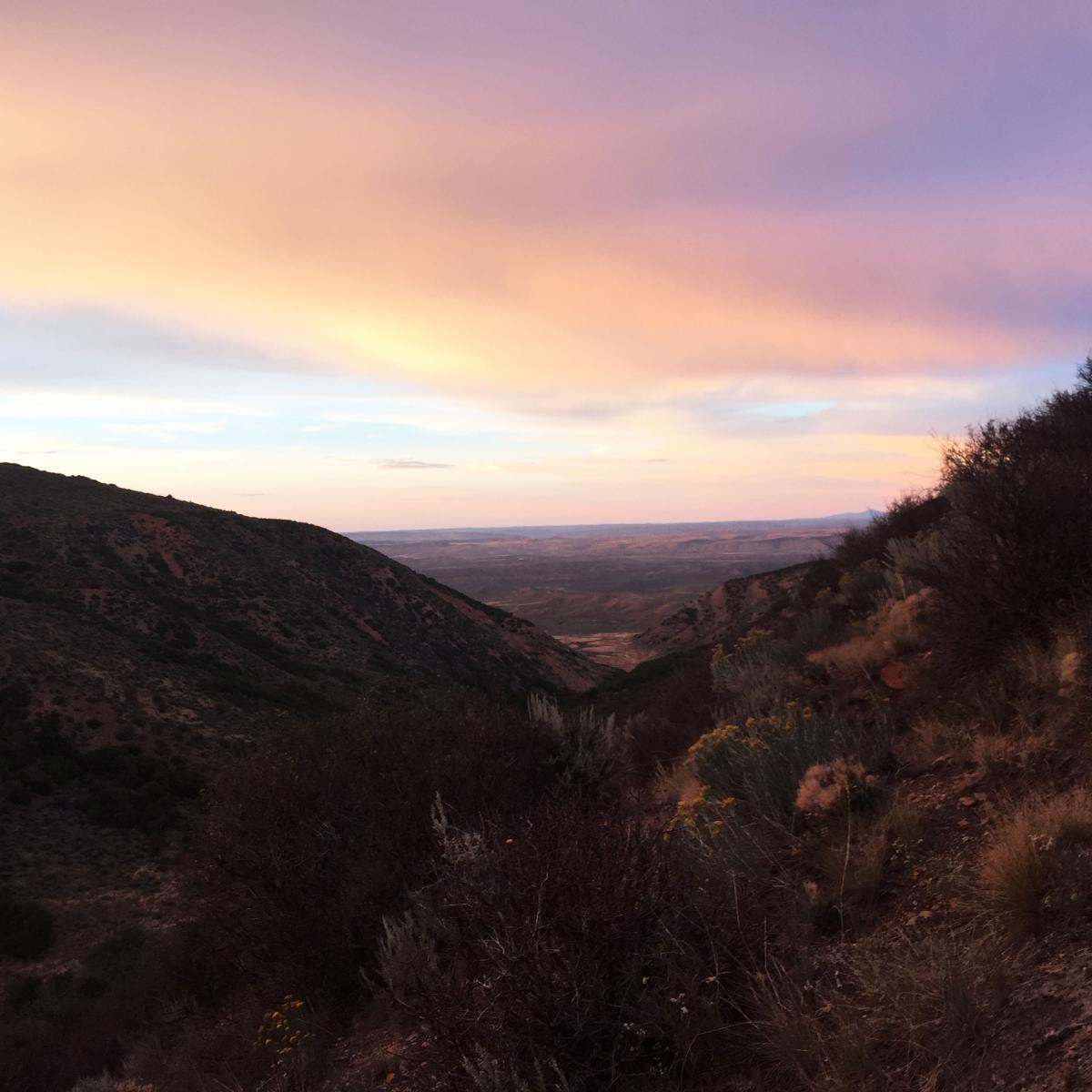 It felt like the ultimate gut punch. All the joy of the moment turned instantly to deep regret. I couldn't believe what I'd done. This wasn't just unethical; I had committed a serious crime. Game laws are taken very seriously. My head was spinning; I couldn't believe what was happening.
"Have you sent the pictures to anyone else?" Morg asked, jolting me back to reality.
"Yes, my wife and Sam."
"You'd better make sure they don't share them with anyone till you figure this out."
I immediately called my wife to tell her what had happened and make sure she hadn't posted the picture to Facebook. She hadn't.
"What are you going to do?" she asked.
"I don't know," I said honestly.
Cole and I started talking through the options. I hadn't meant to break any laws. This was an honest mistake. Maybe I could just wait till tomorrow to take the bear in to be processed. Nobody would ever know except us. But it just felt wrong. The idea of knowing that I'd lied about this would haunt me every time I thought about it.
I called Morgan back. "I need your help thinking this through."
"You've got to make your own decision."
"What would you do?"
"It was a mistake. I'd own it and turn myself in."

I thought back to a conversation Cole and I had had on the drive in where we discussed people's perceptions of hunters. He mentioned that the one thing that makes humans different from all other predators is that we have ethics: we choose to limit when and how we hunt to do what's best for the long term health of each species. That's why we have laws and seasons and fair chase. I was proud of being a hunter who chose to backcountry archery hunt on public land, perhaps the most challenging way to harvest a big game animal. I'd invested a decade of blood, sweat, and tears in the backcountry, and there was no way I was going to sacrifice all that has done for my character for a trophy rug.
I knew immediately it was the only thing I could do. It was the only way to redeem what had happened, to be the kind of man I wanted to be.
I looked up the number for the local Parks and Wildlife office and punched it in. A lady answered the phone. "I've made a huge mistake, and I need to know what to do."
Every person with Parks and Wildlife I dealt with over the following two days was incredibly kind, gracious, and professional. Not one thing was said to me by an officer to try to make me feel worse than I already did. The lady on the phone had to get her supervisor, who then asked us to finish taking care of the meat and to call the local sheriff's office once we were back at our vehicle. She told me they would then contact the Wildlife Officer on duty, who would come out and meet us.
Although I still felt terrible about what had happened, I immediately felt the relief of doing the right thing. More than anything else, I wanted to live a story that I'd be proud to tell to my kids. I wasn't sure what was going to happen. I knew the bear would be confiscated and I'd be facing stiff fines—possibly the loss of hunting privileges. I hoped that jail wasn't a possibility since I had turned myself in.
Cole and I soberly finished field dressing the bear and began the long uphill hike to our camp in silence. Back on top of the ridge, my phone buzzed with a text message. "This is Jeff G., game warden with Parks and Wildlife. I understand you shot a bear today. When you get done field dressing it, go ahead and get it cooled down at your camp, and I'll meet you there early in the morning. Give me a call when you get good service, or send me a text."
I breathed a sigh of relief. This didn't look like a message from a man who was about to arrest me. I called him and explained that our camp was in the backcountry a long way from our truck. We agreed that Cole and I would hike out the two hours back to our vehicle the following morning and he'd meet us there at 8 a.m.

I did not sleep well that night. I was now battling the shame of what I'd done.
When Jeff pulled up next morning, he asked me to join him in his truck so I could tell him what happened. I told him the same story I've told here. I described the encounter, my shot, and the excitement I felt at my first harvest being a bear. Then I relayed how I'd discovered that I'd taken it illegally. He asked me why I'd called it in. I told him I wanted to be able to look my kids in the eye and tell them I'd made a mistake but then done the right thing. I said I couldn't live with myself if I'd lied about this. He thanked me for my honesty and asked me to return to my vehicle while he decided what to do.
I went and sat with Cole for what seemed like an eternity.
Eventually Jeff called me back over to his truck. He pulled out his citation book and began to go over the citation line by line. Did unlawfully hunt wildlife out of season. Did unlawfully take wildlife out of season. Did unlawfully fail to immediately attempt to take all edible meats (he explained with a bear one needs to take the back straps and tenderloins in addition to the quarters). Did unlawfully fail to immediately void tag. The list went on, and the fines added up to over $3000. Jeff explained that he wasn't even listing the very expensive taking a bear between March 1st and September 1st (a $5000 fine) or the failure to have proof of sex attached to meat.
As he went down the list, I noticed he'd written "WARNING" in the fine amount column next to each one except the first charge. He explained that he was only citing me for hunting out of season—a $961.50 fine—and would be issuing me a warning for everything else.
Jeff explained to me that the point system for hunting violations means you likely lose hunting privileges at 20 points; my violations added up to over 50. By only citing me for one thing, I'd only have 15 points and wouldn't lose my ability to hunt. "I want you to be able to take your son hunting next year, and if I cited you for anything else, you wouldn't be able to do that for a long time," he said.
He went on, "Now we need to talk about the bear. I can't let you keep it, so I'm going to have to confiscate it. But what I can do is donate it to your hunting partner if he's willing to take it. Then he can do with it as he pleases." He smiled, and I couldn't hold back the tears. I can't even now as I write this. "I'd like to shake your hand, Jon," Jeff said, "You're a good man. I wish there were more hunters like you. We all make mistakes—what we do after we make them is what defines us as a man."
And with that, he handed Cole a donation certificate for one sow bear and got back in his truck and drove away.
In our community, we have a tradition of naming each animal we harvest. It's a way of honoring them and their place in our story. Last year I was able to help Cole harvest Steve. This year Cole was able to give me my first large game harvest—a beautiful bear I've named Grace. I would have named her Jeff, but that's not very ladylike.