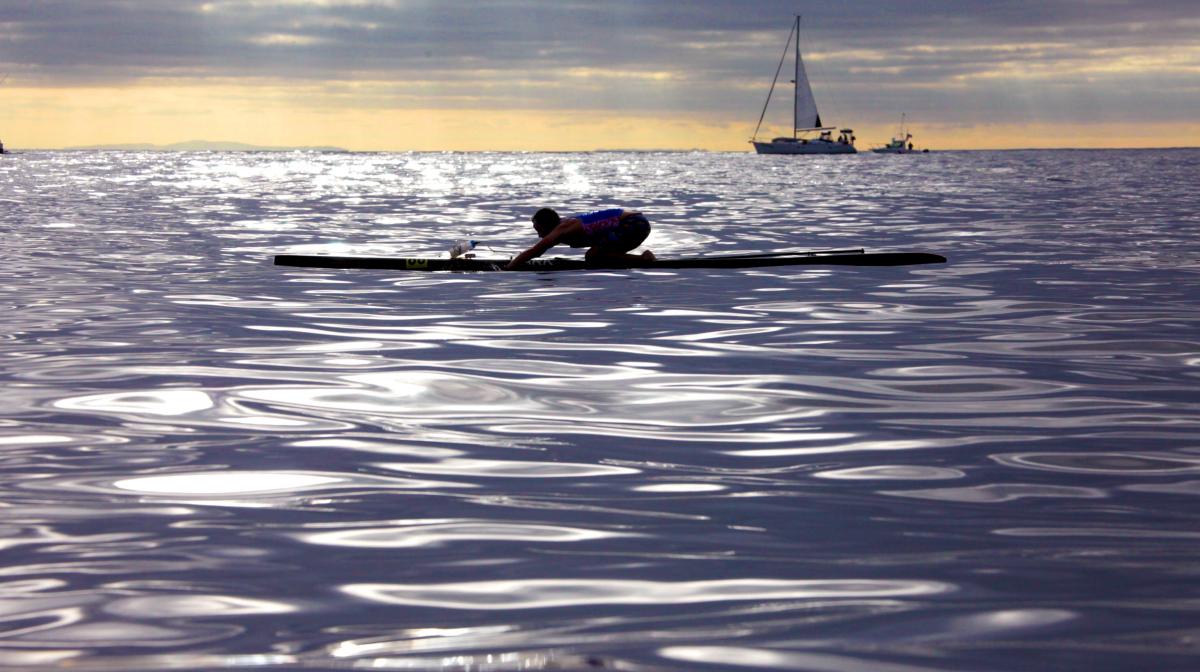 This interview began with a photo.
My pal Craig walked into my office one dreary winter day last January and showed me a picture his son-in-law had texted him. There was a young man standing with what looked like a 20-foot kayak or something. "It's a paddleboard. These guys are paddling from Catalina to Manhattan Beach." Having grown up in Southern California I knew what an insane distance that is, something near 30 miles. Google took me to the website for the Catalina Classic, a 32-mile open water paddleboard race hailed as "one of the most grueling endurance events in the world." That's when I called Jared. I wanted to hear his story.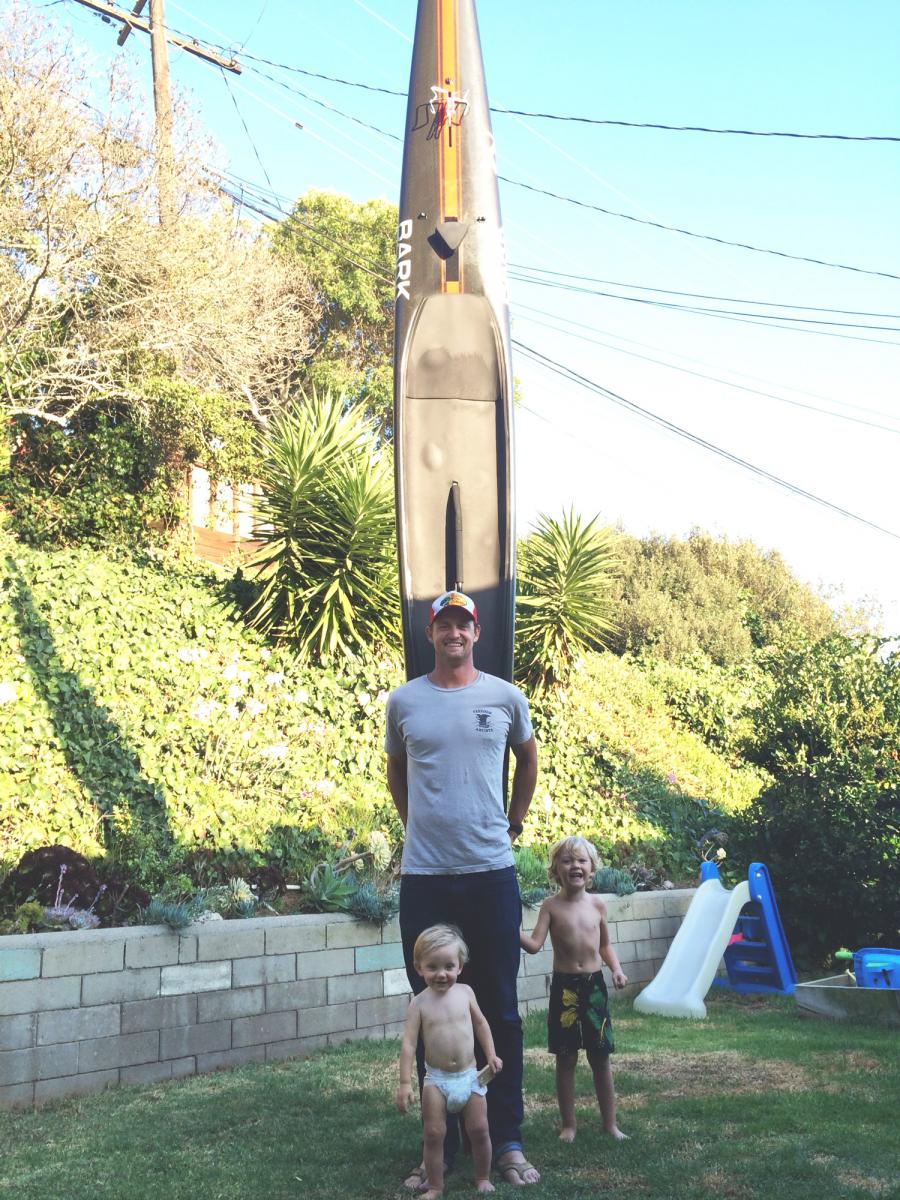 And Sons: I want to hear about the race but I want to hear a bit of your story too. How'd you get into paddling?
Jared Sayers: I've wondered that myself. Growing up in Southern California, it's crowded; there isn't a lot of space. So what we did as a family was go to the beach. My mom had two young, active boys and so she took us to the beach to sort of run it off. And I don't know—I just naturally gravitated towards the ocean. I think we have video of me standing up on my boogie board at like three years old. Nobody taught me this stuff. My folks are from Oklahoma.
AS: Not a lot of ocean there.
JS: Yeah. So it kind of progressed from loving the ocean as a kid, to owning my own surfboard, to competitive surfing throughout high school into college. When life had peaks and valleys, I would automatically go back to the ocean. It wasn't so much the surfing, it was being in the ocean. Swimming, diving, body surfing—any excuse I had to get in the ocean, I would.
AS: We love the ocean too. Living in Colorado, it's the one thing we miss from Southern California. But the race—this is a whole different thing.
JS: (Laughs) It is the most unglamorous 32 miles you will ever put yourself through. It pushes yourself to every limit you knew you had and a bunch you didn't know you had.
I have a friend who works for the fire department and we were just sitting around, you know, drinking beers, and he tells me he is doing a race in San Francisco, around Alcatraz. I'm thinking, I've surfed, I've dived, I should get into this. But the first time he takes me out on a paddleboard was a very humbling experience. It is a torture device; it's very tippy side to side, almost like logrolling. When you're paddling, you alternate between paddling on your chest like a surfboard to paddling on your knees, scooping the water with both hands simultaneously. You're not looking around you taking it all in; your head is basically looking towards the front of the board so all you are looking at is the first five feet of your board and blue, all around you. For hours. But I had this deep appreciation for the art form and craft of it.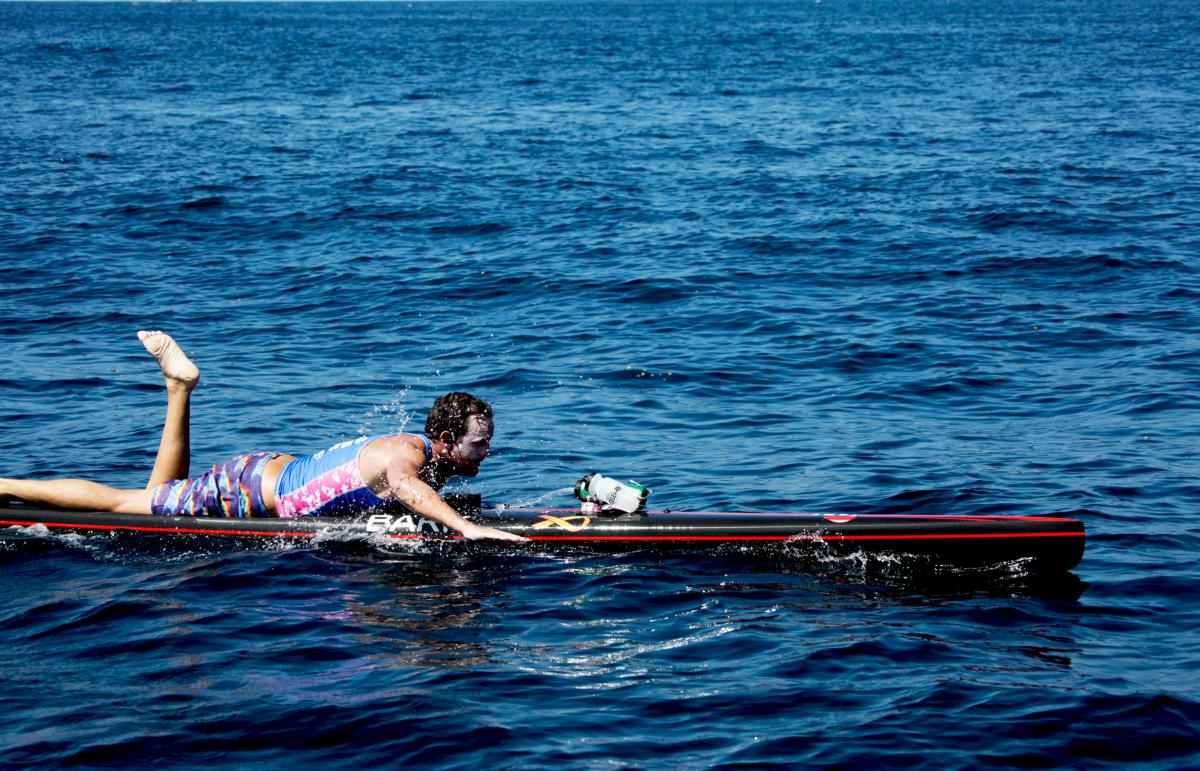 I joined him for the Alcatraz race. It was my first, roughly 10 to 12 miles. And it was on my 30th birthday. I finished it, and it was one of the greatest feelings I've had in my life. I knew, This is going to stick.
Then some years go by; life began to happen. I couldn't afford a board because they are very expensive, and children started to come along and my career started going. But in 2013 I'm out on the Manhattan Beach pier watching the guys coming in from the Catalina race. Watching these guys come out of the nothingness. You look over the ocean and it just goes on forever, and all of a sudden they appear out of the nothingness. The endurance aspect is insane. It looks like they are barely moving. And you can just feel the energy coming off of them at the finish line. After seeing that, I leaned over to Meagan and said, "I'm doing this next year."
AS: We're there. We get it. What kind of training does it take?
JS: It starts around May, three days a week. Two shorter paddles and one longer paddle on the weekend. The race is in August, so I start four months out. By the time you get to August your short paddles are six to eight miles and your longer paddles are anywhere from 22 to 25 miles. I average about 12 minutes a mile, but sometimes you just kind of wanna take it easier, not burn out, clear your head. You're out there for three or four hours.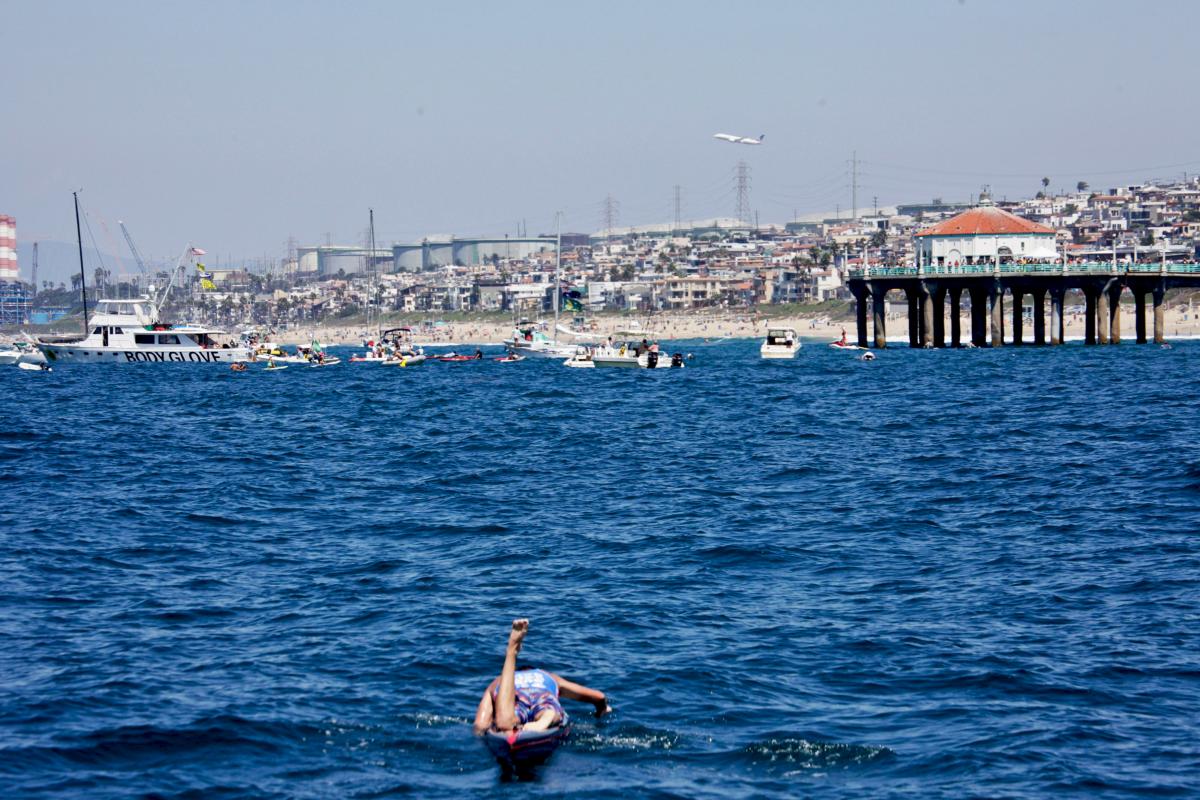 There's something about this modern day, fast-paced world, with digital exploding and the Internet all around us, bombarded with so much stuff—it becomes downright overwhelming. Paddling is an exceptional place to process a lot of life. I do a lot of paddling early in the morning; I do a lot of paddling by myself. In the training you are going out anywhere from five to 25 miles of open ocean.
The beauty of paddling is you sort of kill two birds with one stone—you are pushing yourself hard, but you are also processing life, getting answers to things you don't get sitting at a desk. For me at least it's a really cool aspect of the whole thing.
AS: Take us into the moment—describe to the rest of us what it's like to be out there in the middle of the race. Describe mile 16.
JS: I'm so glad you asked that. The paddle starts in the dark. You paddle out into the nothingness. The water's rough; adrenaline is going. Then you begin to get into a rhythm. Everybody spreads out. Your escort boat is guiding you, watching out for big shipping tankers. My escort boat gets a warning that there is a small grouping of sharks circling me. There is this moment where I'm out 11, 12 miles out into the ocean. The channel is like three to four miles deep. And the sky above. The sun is coming up over the horizon. It is a very humbling, humbling feeling. You think about life, you think about Craig…
[There is a pause, and some tears. Craig has had a long and brutal fight with cancer.]
You think about how delicate life can be. How much you love life. It's almost as profound as watching your child be born.
AS: That sounds…incredible.
JS: It really is.
AS: We've heard the crossing isn't the hardest part.
JS: Right. The crossing is 22 miles; then you turn north over your left shoulder and you've got 10 miles to Manhattan Beach. Guys say that's really when the race begins, because your head is like, We did it, we're done. But you have a third of the paddle left to go.
I can remember the last two miles is like a bad dream. You see the pier—it's right there—but you are not getting closer. You feel like you are crawling on your hands and knees through the desert. You are physically operating out of sheer will and mental fortitude. You keep looking up and the pier never ever gets closer. You wonder, Am I fighting a current? It pushes every fiber of who you are to a level you didn't know was there.
Then the last hundred yards—you see the guys who finished before you, you see your family on the pier cheering you on. Your boat driver is almost in tears for you. I had this crusty old boatman, and he was almost on the verge of breaking down watching me come through the last hundred yards. And you get this—not second wind, more like tenth wind—and you dip into this reservoir you didn't know was in you, and you hammer it through the finish line. It is one of the greatest feelings in the entire world.
I think that's why the people who paddle are so infectious to me. They've had a lot of time alone out on the water, and they've had time to piece together some of the bigger questions. I think that's what attracts me to the sport. You do it to figure out stuff about yourself. And the medium you are doing it in is the definition of high adventure—you see whales, you see sharks, pods of dolphins in the hundreds, you see breaching whales, you see baby whales. You see the sun coming up over the horizon. It makes you ask the bigger questions. And it helps me be more present in the rest of my life.
[Jared is currently training for the Classic again this August.]