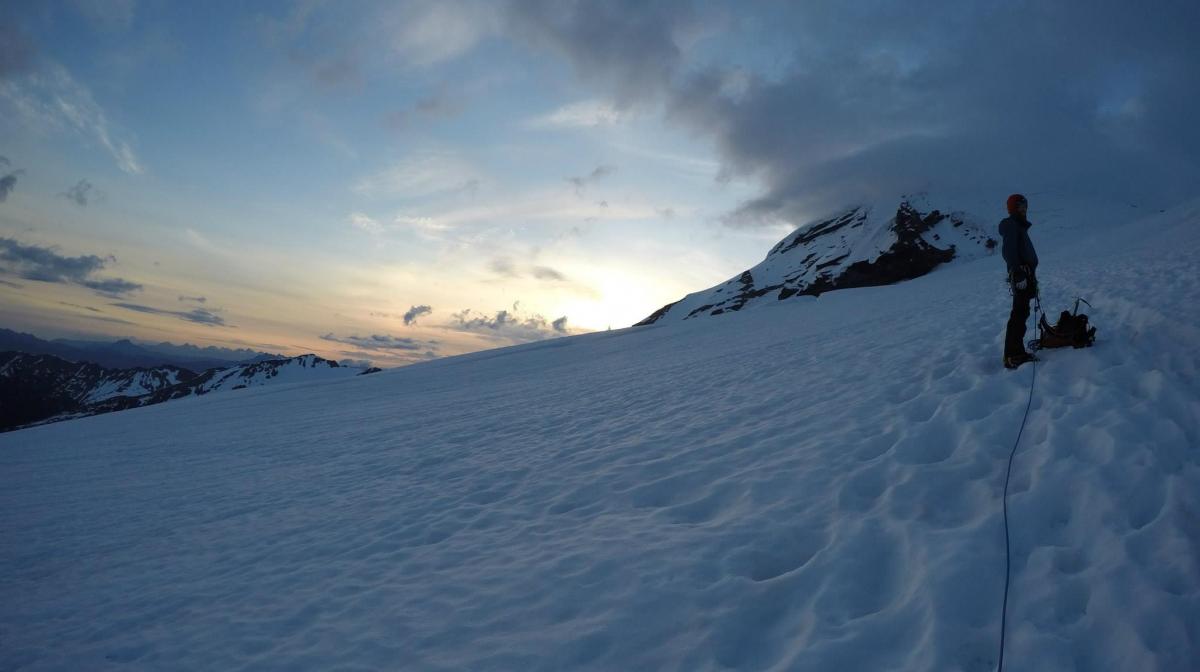 I'm 13 and plunging a trekking pole into a snowfield on Mount Sneffels' north face. The field is getting steeper, and each kick-step brings me further into terrain I have no experience in. Being terrified of heights, I am, well, terrified. After making it up the snowfield and two pitches into the climb, a sleet and lightning storm forces Padre, Morgan and me into an emergency descent—first back down the pitches, then the snowfield. There we run out of rope and are forced to glissade (a controlled slide down the snow and ice), using a collapsed trekking pole.
Five years later, we come back to finish unfinished business. I'm 18 and scrambling up the southwest ridge ascent of Sneffels. The scree is covered in ice, making each step uncertain. Padre and I are using a simple hip belay, probably giving more psychological assurance than actual safety. As I cross a curved, three-foot ridge with a 1000 foot drop on one side and 800 on the other, I vow to myself, "I am never going mountaineering again." We do conquer Sneffels. After a bit of blood and a dislocated shoulder (successfully replaced after a prayer and some elbow grease).
I remember that vow well, so I find it a comical surprise to find myself at 21 with a backpack weighing down my steps into glacier snow, trekking pole and ice axe in hand, ascending to base camp as part of a 14-member team making a bid for the summit of Mount Baker, a volcanic mountain belonging to the Cascades of Washington. I don't know what I was thinking signing up for this.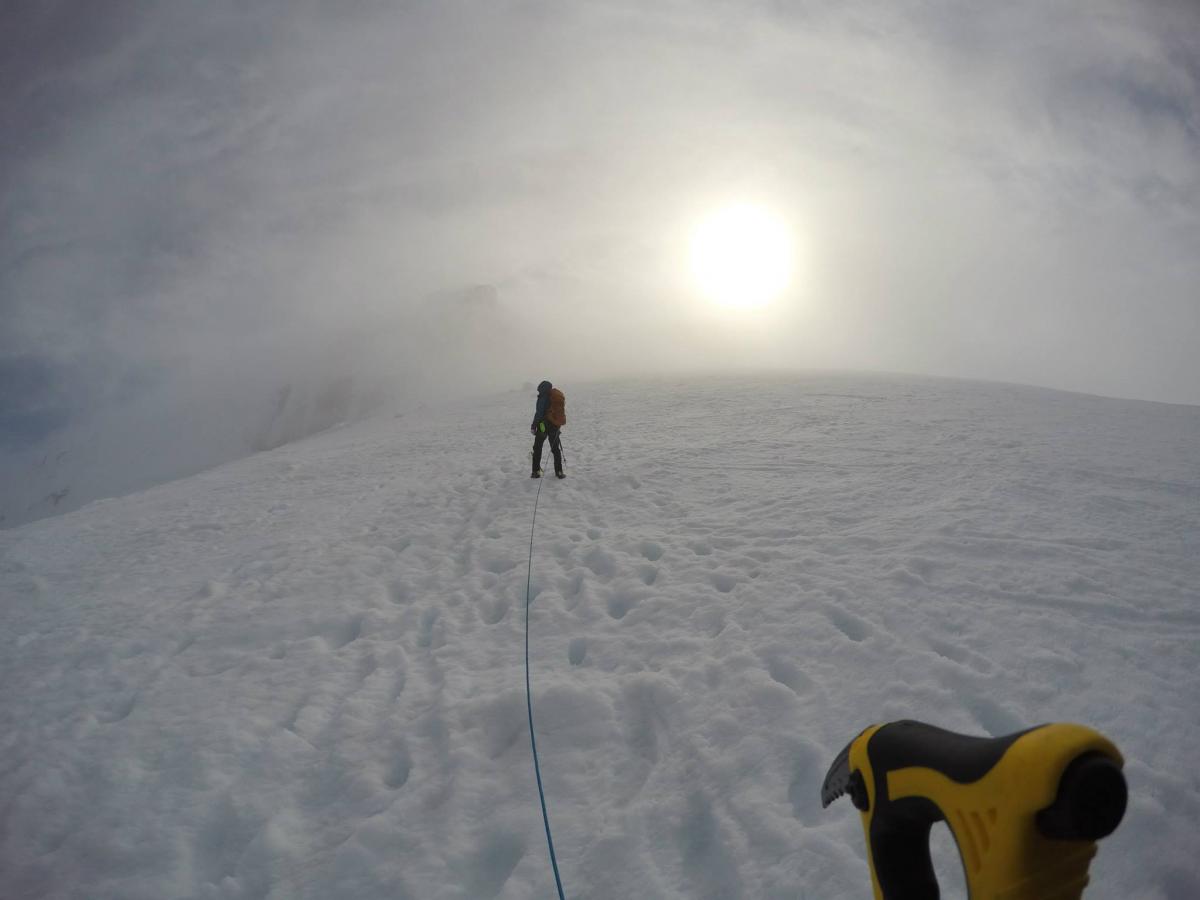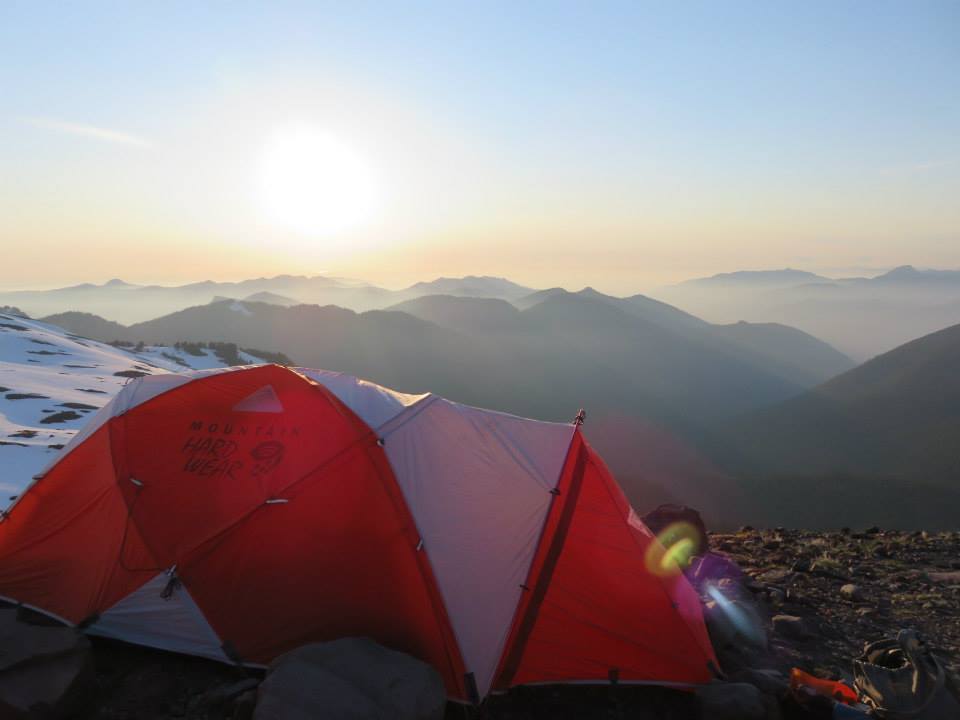 Base camp sits on a spine of rock cresting out of the glacier snow. The peak looms in the failing light. Another 6000 feet of elevation gain awaits us, mostly ice and snow, slashed with crevasses like desert canyons glowing blue beneath the snow. The past two weeks have been spent learning rope and anchor techniques to rescue a member of the party, or myself, from a fall into the yawning fissures. We practiced these techniques again in the snow around basecamp. We also practice self-arresting: digging the ice axe into snow to stop the momentum of our fall. As we throw ourselves down a hillside in every fashion possible, including backwards and head first, I feel just how magnificent is the cold hard tool of the ice axe. The peak looms like Goliath, and I stand with my rock and sling.
It is difficult to sleep the night before a summit bid, so I am already awake when my alarm sounds at 2:00 a.m. Crawling out of the tent in layers of clothing, synching down my boots, tightening my harness weighed with gear and clipping into my crampons, I watch the ripe-orange moon set over the mountain's west ridge. Part of crevasse safety is being tied into rope teams: we are one another's anchors as we clip into the long length of rope. [Editor's note: See Alpenstock in Issue 09] In the dark, the three rope teams are only identifiable by a string of glowing headlamps. With a shout, we are off. I am leading the second rope team. I try to follow the lead team in front, but soon the dots of their dwindling headlamps disappear and I am left to follow their tracks.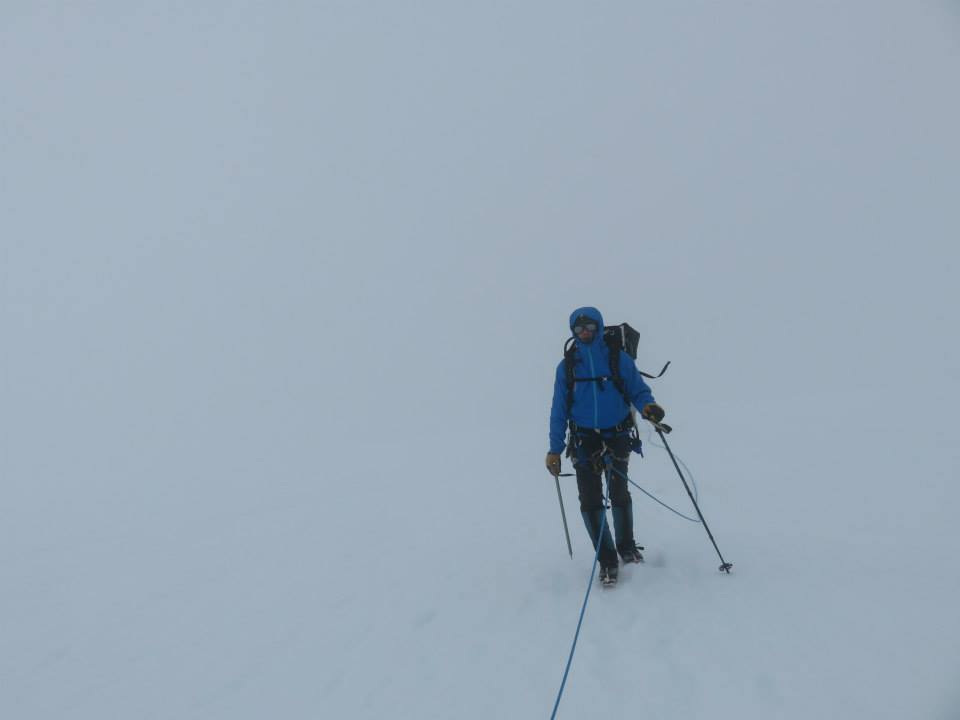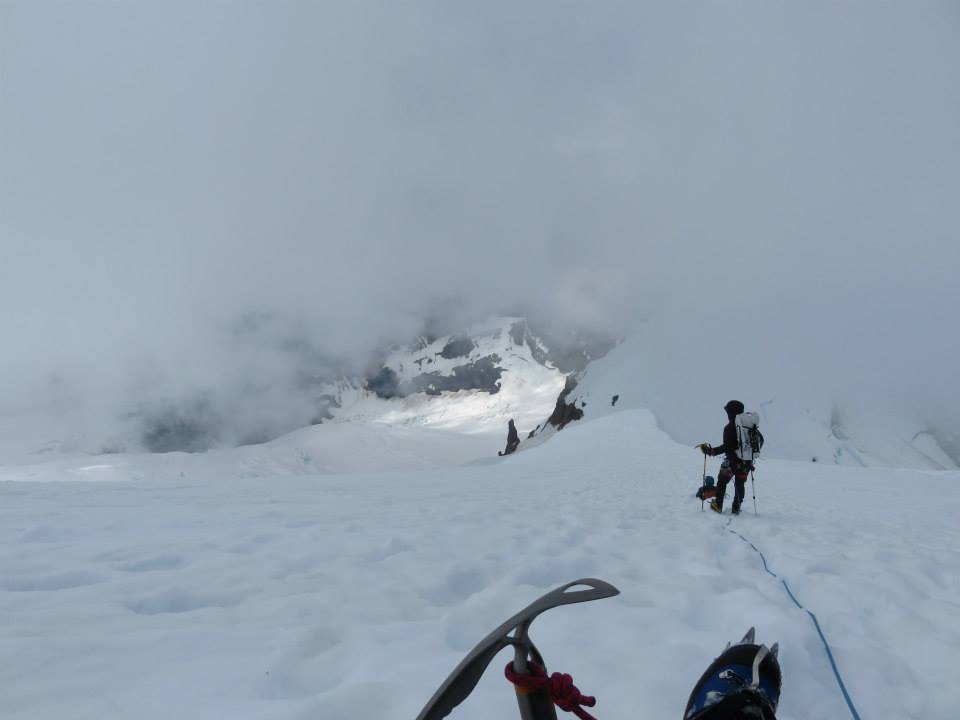 The glacier is an alien landscape in the morning twilight—large sections of broken ice stretch into the sky and slopes of snow sweep into the mesmerizing patterns of windswept sand dunes. I am keenly aware of one simple fact: man is not welcome here. There is only the sound of my breathing and the crunch of my crampons biting into the hard-packed snow. Crevasses open upon the silence, forcing us to weave our path or cross on small bridges of snow. Though this glacier crossing dwarfs that snowfield on Mount Sneffels, there is no terror. It's more than proper training and equipment; I am a different man now from who I was then.
After four and a half hours and 4000 feet of elevation gain, we crest into the saddle, and as soon as we do we are slammed with howling winds. By this time, our party has been reduced to 11, due to altitude sickness and a calf cramp. We are further reduced to six when our leader sends down the third rope team. This is for safety reasons: the final push for the summit is going to be burly. The third rope team disappears down the lip of the saddle and the remaining six, positioned in two rope teams of three, climb onto the south ridgeline to the summit. As soon as we make the ridgeline, we are assaulted by 70 miles per hour winds. Their strength lashes around the rope between us. The wind kicks up snow and ice, creating a total whiteout. The lead rope team completely disappears in the impenetrable wall of white; fingers of ice crawl across their footprints. If I turn, I can barely make out the silhouette of the second member of my rope team. The snow on the ridge has now turned to pebbles of ice over a thin sheet. My feet are soaking wet, and my stomach churns with the effort of kicking steps and using the ice axe as a lever to heave myself up the ridge.
Despite the tremendous effort, what I am overwhelmed by is the loneliness. With no indicator of others besides hieroglyphic footprints and the weight of the rope on my harness, with nothing but white, I am utterly alone. I love solitude, and I have suffered seasons of isolation, but I have never felt such haunting loneliness as this. Halfway up the ridge, the last member of the first rope team has a failure with her crampon. Climbing towards her to give assistance, her silhouette grew into form. Getting to her, I am aware of how happy I am to see another person.
After two more hours and 2000 feet, we make the summit: an arctic desert of white. Joy is primarily in completion. As we turn to descend the slope, I laugh and smile at how safe I feel. And how far I have come since Sneffels.