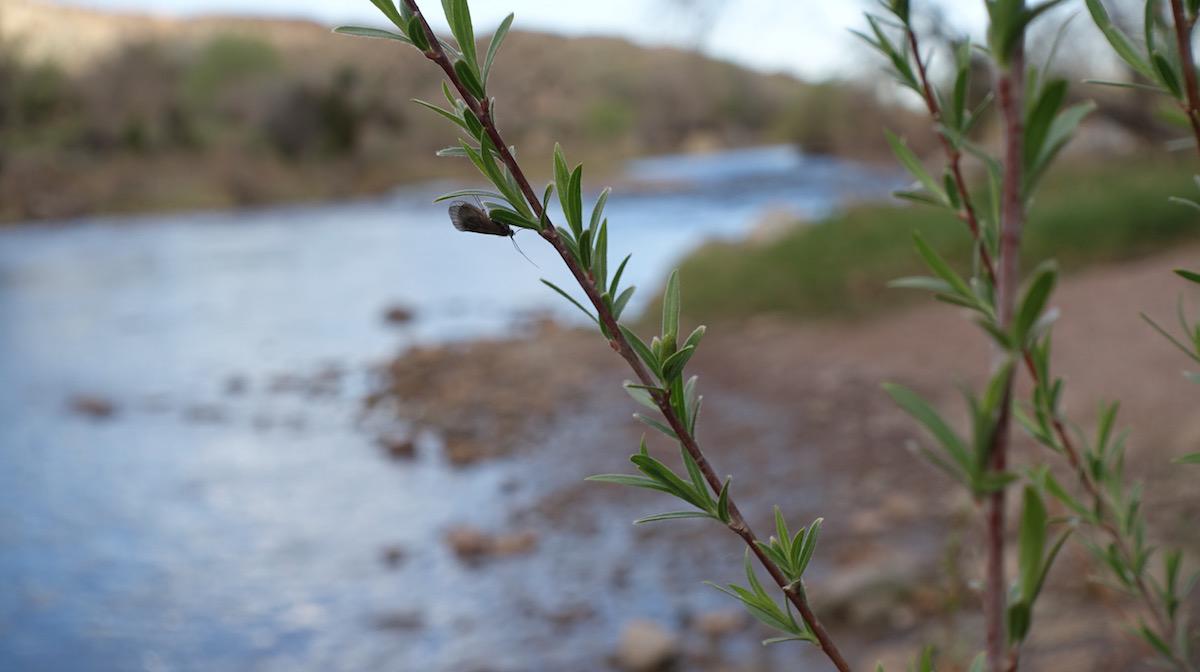 In the valleys of southern Colorado, it's springtime in the high desert. It's easy for the untrained eye to miss. The scrub oak looks dry and dead as driftwood on the beach. The grass is dry as straw, although the lichens in the groundcover have begun to show some shades of blue and green.
Six weeks before the cottonwoods will burst into leaf, springtime is found in two places: in the sun and the water. The light, which for eight months has hit the river from far to the south, has just begun to take on a promising angle. It's turning from starch white to yellow and eventually it will be gold. The thin winter rays are getting some meat back on their bones. These are the weeks for which the fisherman has been waiting all winter.
All fishermen have a sixth sense for water, known or unknown, a kind of mystical property, and dad's got it in spades. When I was growing up, it was not uncommon to find him in the backyard checking the light, feeling the heat, letting the weather calibrate whatever internal sensors told him the river-dwelling insects were busting from their cages a hundred miles away. Every April, after the stark white days of winter light loosened up a bit, he would know. The caddis were hatching on the Arkansas.
In fact, he still knows, and so there we were, smack in the center of April, suiting up in the valleys south of town. Some loose-lipped fisherman had alluded to a creek in the national forest behind the Arkansas, believing, probably, that we didn't have maps or the dedication to use them. We did, though, and so had scoured the access roads in search of a dry seep, even a trickle.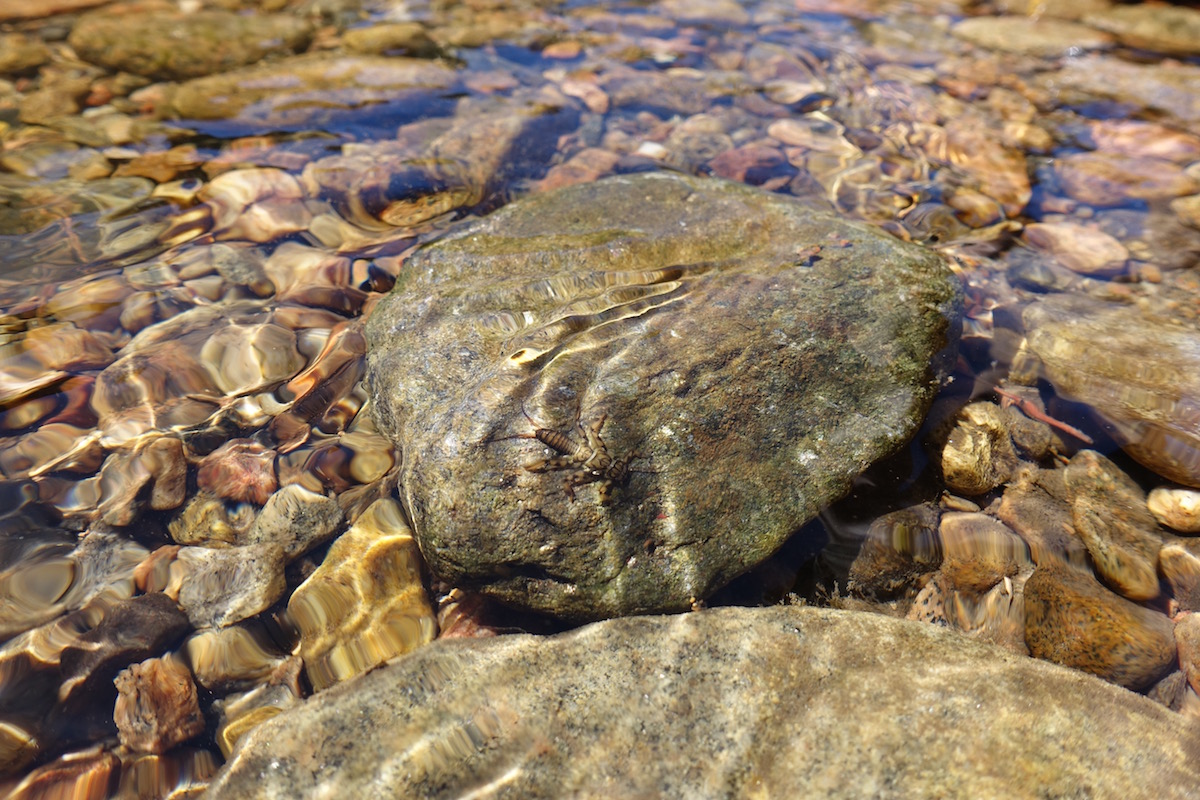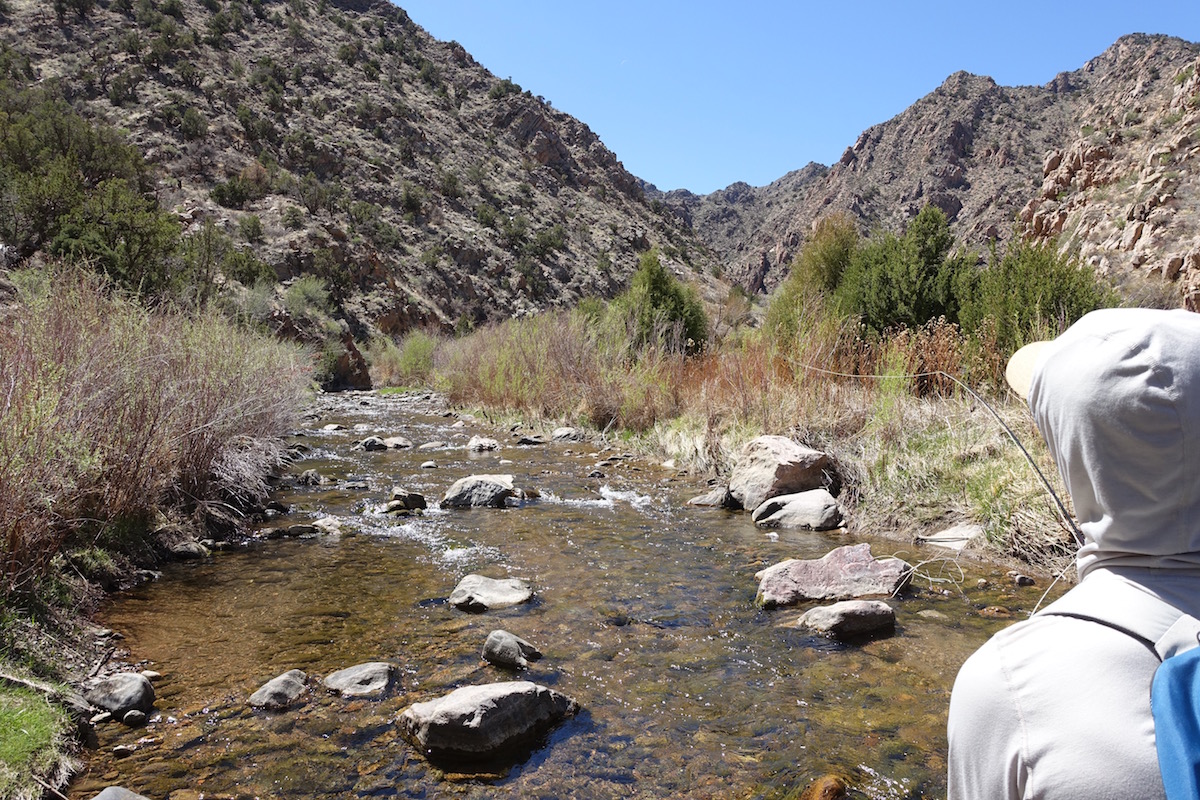 You'd be amazed where a trout can live. I once watched Luke pull a brook trout out of a trickle no bigger than a rain gutter. Our lippy friend was right, though. There was indeed hidden creek (for the overly inquisitive reader, I'll just tell you. It's in NEVADA not far from ZION. Now go ahead and find it and shoot us a picture).
We'd filled the truck with fishing gear and a few prime sticks and driven the [unnamed] hours to the access road. Further north, it had snowed two days before. Down in the canyons, it was Spring, the desert canyon radiant with heat. The water, though, sat at a perfect cool level. It looked beautiful and downright sly in its secret canyon. In a few more weeks, the snowmelt would blow out the Arkansas river and flood its many tributaries, but earlier, in those magic spring weeks, we'd come down a desert road into a newly budding Eden.
Spring hatches are like summer blockbusters without the disappointment. The fish, starving after a scarce winter, thaw to find themselves at a banquet table. The river bottom crawls with nymphs. Emergers stuff the rocks and swim in the eddies. The air fills with caddis and mayflies, and one extremely innocuous purple fly I will not name. He was there in April, tucked nicely in place, although his brother was in the bushes somewhere back behind.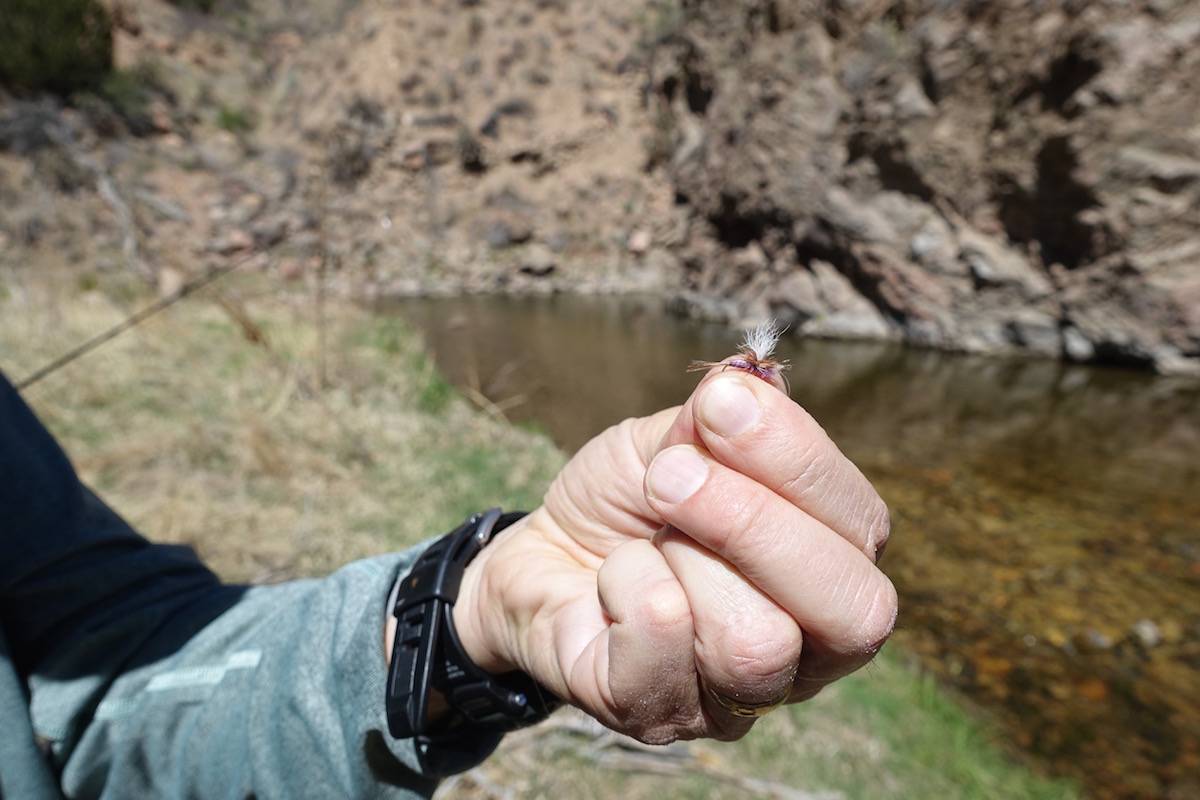 Hiking up the valley, we had come to a series of low crumbled cliffs. The valley at their feet was strewn with glacial erratics, boulders that cut the creek into a series of deep pools. It was like a diagram of prime lies. Moving down the canyon, we finally found a place where we could reach the water. Possible, but only. That canyon would be a great place to be a sheep.
Well. Spring creeks don't become secrets for being easy to get to. With a few scratches and an unfortunate run in with some cholla spines, we hit the water.
As a kind of courtesy, and because we wanted to know if there were fish in the water, we let dad step up. He threw a lovely cast between overhanging sticks and set his fly just beside the foam in a nice run. It looked so good I thought about going after it myself, but no luck. He threw again. Agonizing.
"Guess they're not looking up," he said.
It seemed to offend the rainbow's sensibilities.
There was a swirl. A trout crushed the fly. Spring.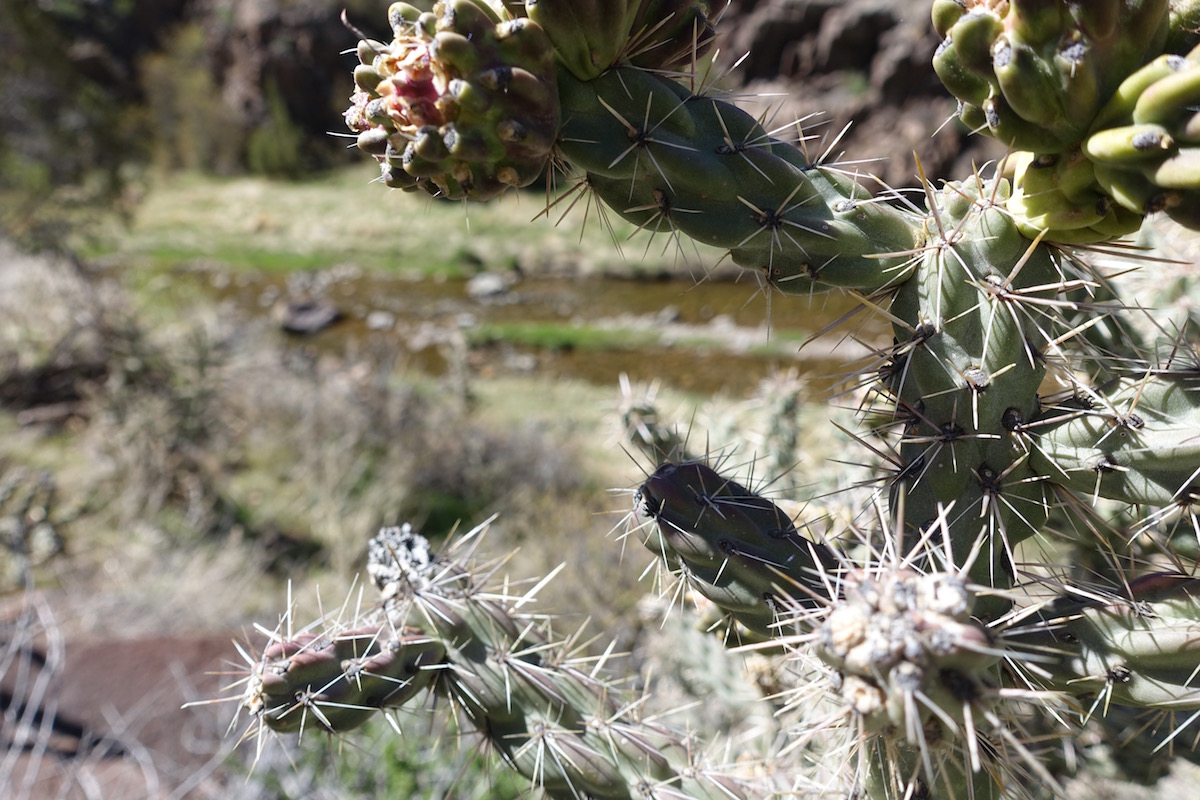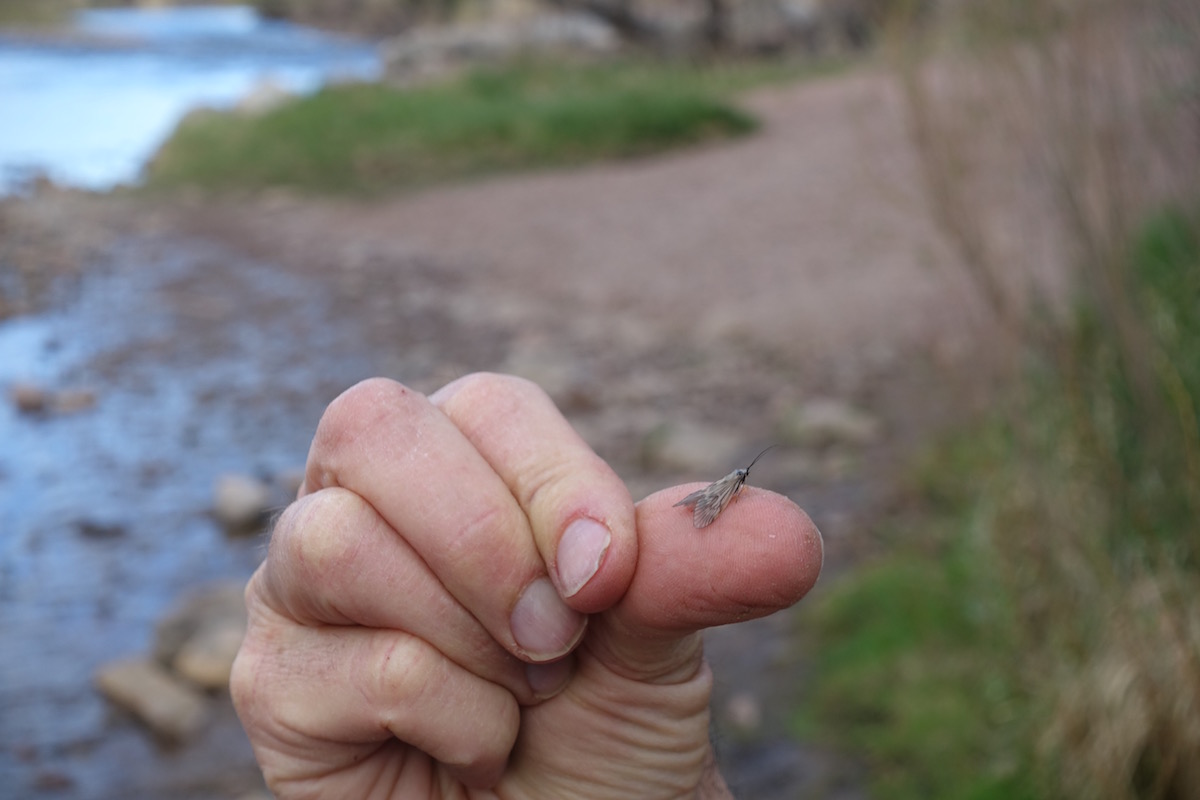 Of course, we didn't see many other fish and heat-stroked ourselves again. Sam caught one, but did it on a nymph, and so I maintain that it was snagged. Just up from dad's honey hole, I threw a series of lovely, and largely flawless casts into a promising hole with no return.
On my third cast, I succeeded in wrapping my line around some overhanging bushes. It held tenaciously. To remove it, I pulled the reachable branches toward the ground but, in so doing, unhooked the fly from its perch, which proceeded to bury itself in my free thumb. It was a bind if there was one, not unlike holding a drawn bow pointed, somehow, at yourself.
And then, I kid you not, the fish began to rise in the water.
Spring is here, fellas. The caddis are busting out on the Arkansas (along with a nice Blue Wing Olive hatch); they are swarming the lower Madison as well (along with famished anglers emerging from their long winter's nap); salmon flies are beginning to move on the Henry's Fork; the BWOs are of course saturating the Green on overcast days. This is a fun time of year but you've got to seize it now because runoff is about to blow everything but the tailwaters and then we're back to ranch ponds and lakes until the rivers clear.
Spring hatches the fisherman's harvest of desire. The banks of well-known rivers fill with fishermen on their sick days. It's a time for new fisherman to learn with great success and for old fishermen to find their rivers in a giving mood. The sun is back out, first and most importantly. Or if it's not, the insects are. For those of us who've waited all winter, or maybe even longer, there is no time like the present. Springtime.