"We feel very unsure about our choices, because you could give thirty years of your life to something and then it could be swept away in an instant. That's Africa." - Wonde
Dec 30th: Drove into the wild desert near the border of Kenya via a winding dirt road. We sat atop the safari seat on the back of an old army Land Rover. Hours of passing Maasai villages with their circular defensive homes. My first wildlife sighting was a dead zebra on the side of the road, something I found reminiscent of a bad comedy.
Upon arriving at camp we explored the dry riverbed that will be our home for the next few days, looking for firewood and finding small brown monkeys, impala, kingfisher, guineafowl, thompson gazelle, and ostrich. A few older Maasai men arrived in our camp and were content to sit in silence, watching us and sipping the tea we offered for what seemed like several hours. They carried spears and their ears were looped in the traditional warrior fashion. It's an unsettling experience to have eyes trained on you without ceasing, whether the perpetrator is armed or not.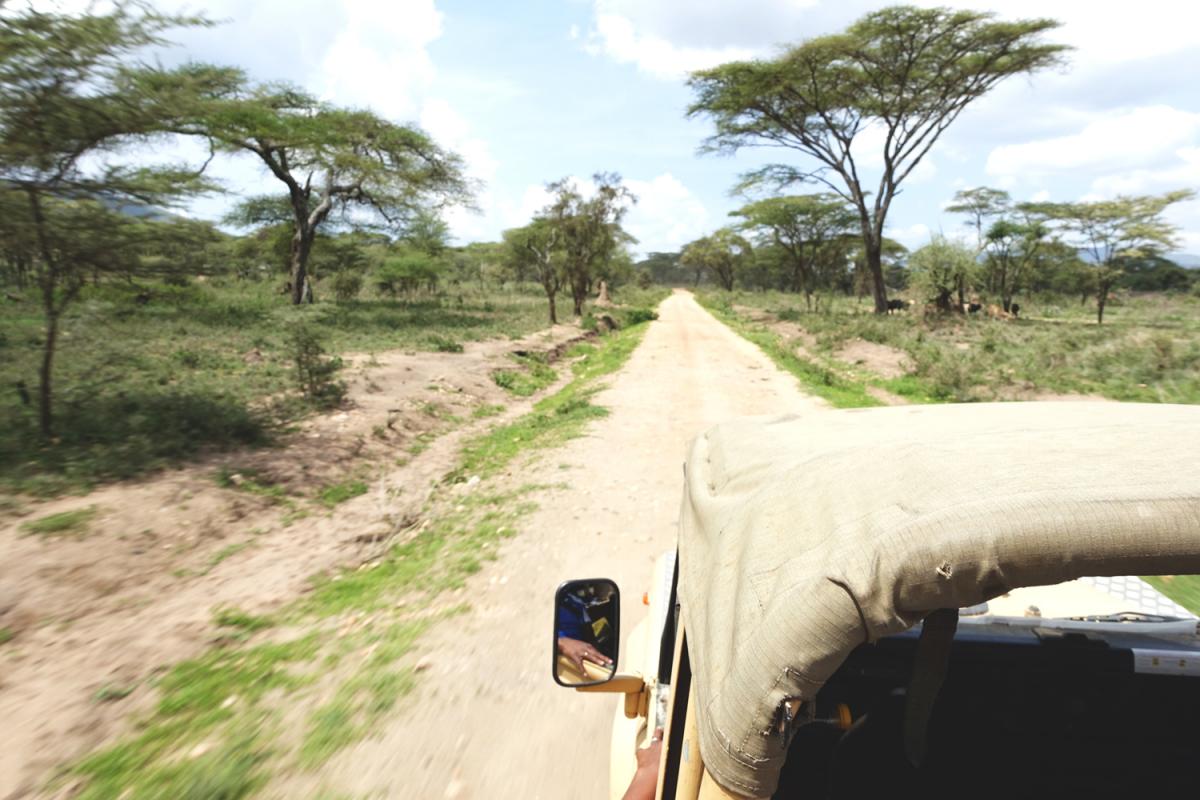 Jan 1st: Woke up to monkeys in the trees over our tent… the sounds of birds calling from off in the bush is deafening and wonderful. From our campfire in the riverbed we watched baboons and impala cross from impenetrable wild to impenetrable wild, seen only for a few moments as they moved in the early morning air.
The sun is oppressive. As Hemingway put it in his Green Hills of Africa, "It was cool in the shade, but if you stirred into the sun, or as the sun shifted the shadow while you read so that any part of you was out of the shadow, the sun was heavy." We went on a drive looking for giraffe and elephant, but found none. On our way back to camp I spotted what looked like four feet of black mamba slipping into some whistling thorn acacia.
Jan 4th: Our second day on safari with Abi, we venture into the Ngorongoro caldera. Driving up through red dirt roads, the walls gauged into caves from tembo digging for minerals, we pass cape buffalo glaring at us as we speed by. The crater is dizzyingly beautiful. Everywhere are zebra, wildebeest, and cape buffalo. In isolation are lion, rhinoceros, flamingo, hippopotamus, elephant, and a few eland.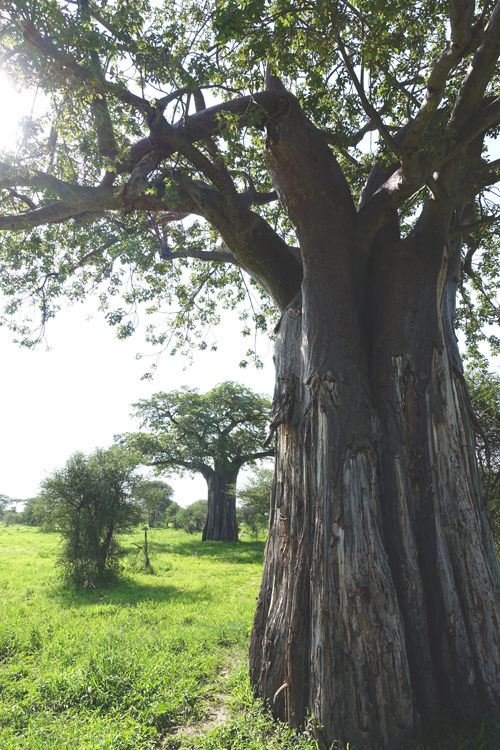 Jan 12th: Up early to prepare our packs for the climb up Kilimanjaro. We will take the Lemosho route with our twelve porters, an embarrassing number for just the two of us. The drive to our gate is nothing short of insanity as we pass other massive trucks and pikipiki bikes that seem to service the vast potato farms on the mountain's base. White sacks filled to the brim line the winding dirt road.
Our lead guides, Gaudence and August, speak very little English and we speak very little Swahili, so our slow pace is mostly punctuated by the stream of porters passing us by. For most of the walk we are alone with our thoughts, breaking the silence every now and then to call attention to the jungle around us or some thought we had about what kind of home we envision ourselves living in. By the time we reach camp the crew has set everything up and dinner is nearly warm.
Jan 14th: A cold and restless night of sleep gives way to a clear morning. Everything is covered in frost, and looming over it all is the peak of Kibo. The stars last night were incredible. Our hike today to Shira 2 is an easy, short walk under the gaze of the mountain. It's a beautiful alpine country. Large stones lie scattered upon the ground and it feels like giants lived here in another age.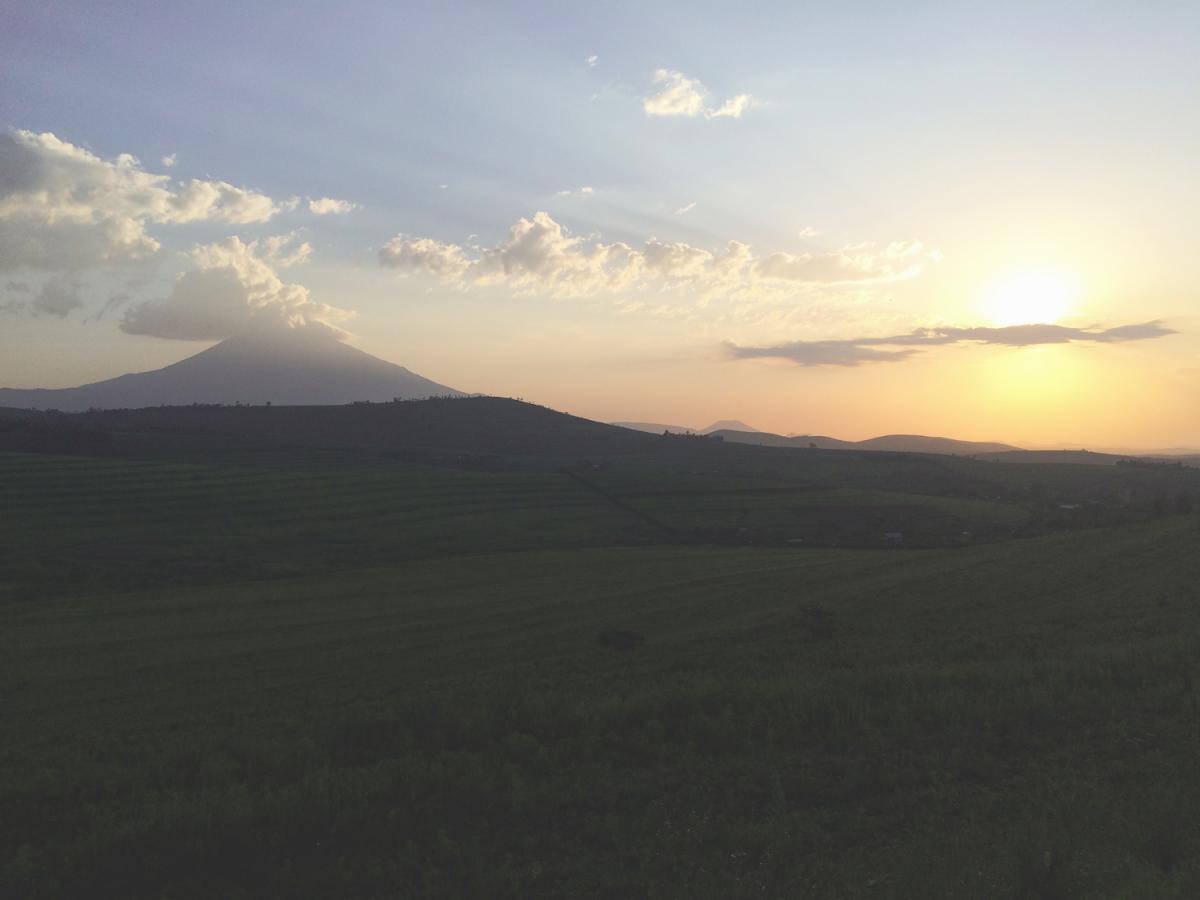 Jan 16th: Day four-hundred and thirty-seven, we have made camp at Barafu, 15,000 feet above sea level. It was our longest day yet and it is far from over.
I am tired, but happy to be here and within striking distance of the peak. We have the afternoon and early night to rest before we set off at midnight to attempt the seven-hour ascent.
I want a beer. And a shower. And to be off of this bloody mountain. But I want that summit… to feel strong and competent and to share a victory with Susie. God is my strength and my portion forever.
Jan 17th: Susie and I have said that this trip is the most mentally-challenging excursion we've been on. Days and days of hiking without ever feeling closer to the peak, and now six days in we finally begin what feels like the long-awaited goal. When the alarm goes off at 11:15 pm we pull on all our layers and gear, our muscles already sore from five days of hiking, our nerves already frayed with anticipation.
After a half-cup of tea, some crackers, a bite of some fruit bread-thing, we don headlamps, grab our trekking poles, say a prayer for strength and warmth, and begin.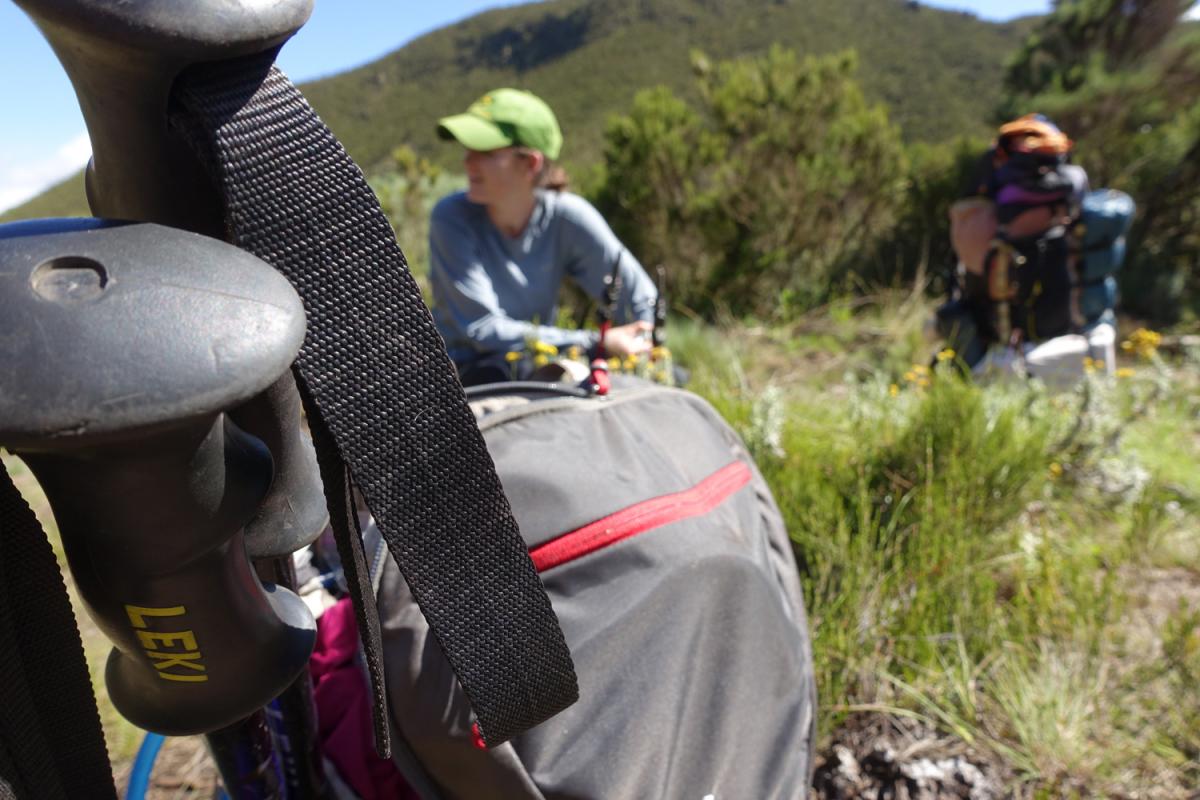 It's midnight, so all we can see are the rocks at our feet and the lights of the other teams in front and behind us with an unspeakable display of stars above. Climbing in the dark is actually helpful. You have no concept of time or distance, so you don't think about the seven hours it should take to reach the summit; you just think about one foot in front of the other.
At first it's too warm for all our layers. We pull off mittens and fleece jackets only to scramble to put them back on 20 minutes later. It gets cold. Very, very cold. You believe you will never be warm again. You forget that you ever were warm.
Each step takes me higher than I've ever been: 16,000 feet… 17,000 feet… 17,500 feet… 18,000 feet… only I don't know where I am at any point. It's only up. We stop for a break twice, and the first time my Camelbak has frozen, the second my Nalgene as well.
You're lost in your head—tired, counting steps, praying, trying to warm your hands while still using your poles, losing faith that you can or ever will reach the top. It's mentally brutal.
And then there's a sign ahead. It's Stella Point (the lower summit of Kili), we can't believe it's here but after cheering a little we continue on another hour to Uhuru Peak, the summit at 19,341 feet. We have reached Uhuru at 5:45 am, one hour and 15 minutes sooner than we expected.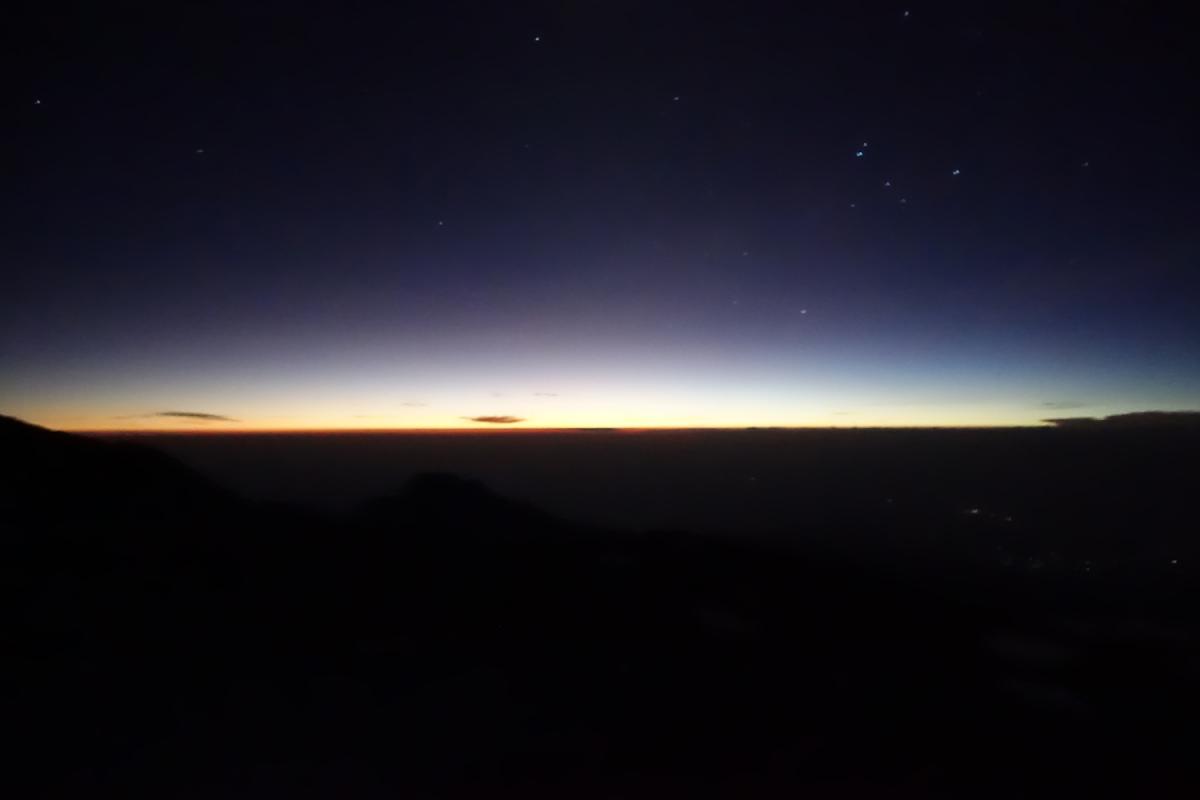 The sun has not yet risen and it's so cold that my fingers still hurt three days later from a few minutes of exposure it took to snag a few photos.
It's so cold that we're forced back down to Stella Point to drink tea and watch the sunrise. It's incredible, and we stay as long as we're comfortable. Then we begin the slide down an avalanche chute to reach our camp one hour later.
---
So ends my journal entries from our trip to Tanzania.