Charles Dickens's A Christmas Carol has become a family tradition in our clan—readings, reenactments, old movie versions, and of course no holiday is complete without the first thirty minutes of The Muppet Christmas Carol. As we thought about our "engage" feature this month, Dickens immediately came to mind—he was a forerunner to the modern justice movement, and he weaves its themes powerfully into Scrooge's tale.
Early in the story, when first we meet the "squeezing, wrenching, grasping, scraping, clutching, covetous old sinner," he is in his money-lending offices (think pawn shop/ loan shark.) Two gentlemen—the modern equivalent of Samaritan's Purse or the like—have just entered the door…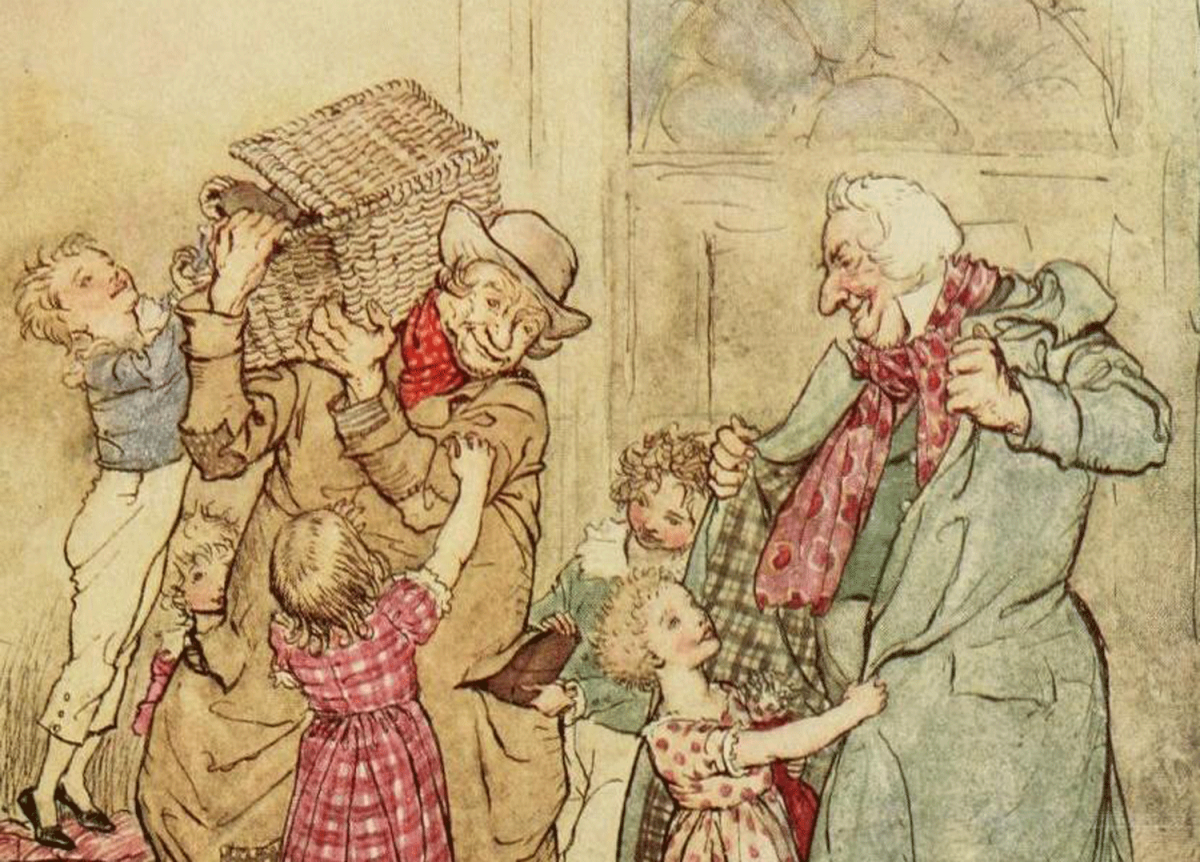 They were portly gentlemen, pleasant to behold, and now stood, with their hats off, in Scrooge's office. They had books and papers in their hands, and bowed to him.
"Scrooge and Marley's, I believe," said one of the gentlemen, referring to his list. "Have I the pleasure of addressing Mr. Scrooge, or Mr. Marley?"
"Mr. Marley has been dead these seven years," Scrooge replied. "He died seven years ago, this very night."
"We have no doubt his liberality is well represented by his surviving partner," said the gentleman, presenting his credentials.
It certainly was; for they had been two kindred spirits. At the ominous word "liberality," Scrooge frowned, and shook his head, and handed the credentials back.
"At this festive season of the year, Mr. Scrooge," said the gentleman, taking up a pen, "it is more than usually desirable that we should make some slight provision for the Poor and destitute, who suffer greatly at the present time. Many thousands are in want of common necessaries; hundreds of thousands are in want of common comforts, sir."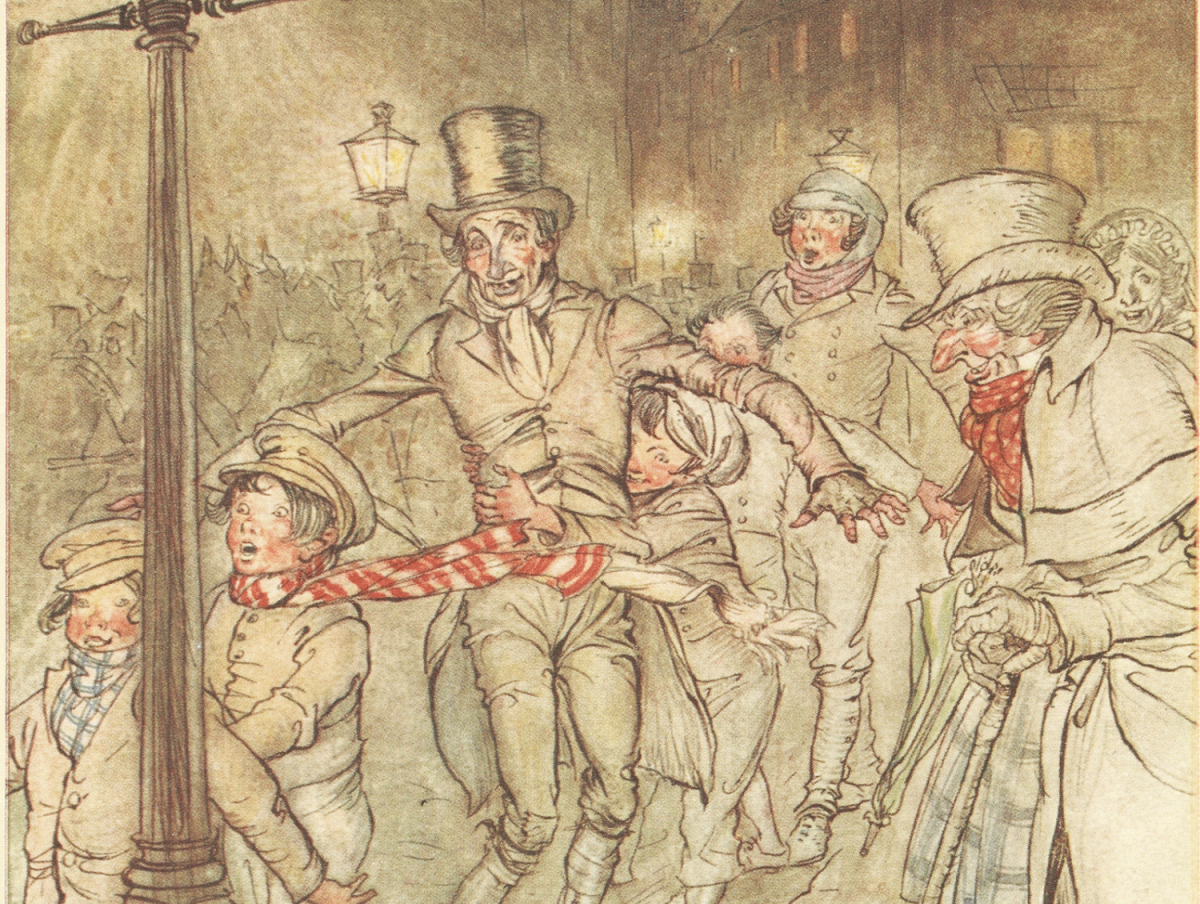 "Are there no prisons?" asked Scrooge.
"Plenty of prisons," said the gentleman, laying down the pen again.
"And the Union workhouses?" demanded Scrooge. "Are they still in operation?"
"They are. Still," returned the gentleman, "I wish I could say they were not."
"The Treadmill and the Poor Law are in full vigour, then?" said Scrooge.
"Both very busy, sir."
"Oh! I was afraid, from what you said at first, that something had occurred to stop them in their useful course," said Scrooge. "I'm very glad to hear it."
"Under the impression that they scarcely furnish Christian cheer of mind or body to the multitude," returned the gentleman, "a few of us are endeavoring to raise a fund to buy the Poor some meat and drink, and means of warmth. We choose this time, because it is a time, of all others, when Want is keenly felt, and Abundance rejoices. What shall I put you down for?"
"Nothing!" Scrooge replied.
"You wish to be anonymous?"
"I wish to be left alone," said Scrooge. "Since you ask me what I wish, gentlemen, that is my answer. I don't make merry myself at Christmas and I can't afford to make idle people merry. I help to support the establishments I have mentioned—they cost enough; and those who are badly off must go there."
"Many can't go there; and many would rather die."
"If they would rather die," said Scrooge, "they had better do it, and decrease the surplus population…"
A tough old coot, to be sure. But the visit from the three ghosts has a transforming effect. The Past takes him into his woundedness; the Present into the possible joys he could have; Christmas-Yet-To-Come basically scares the bejesus out of him with proof that he will soon lose everything by death: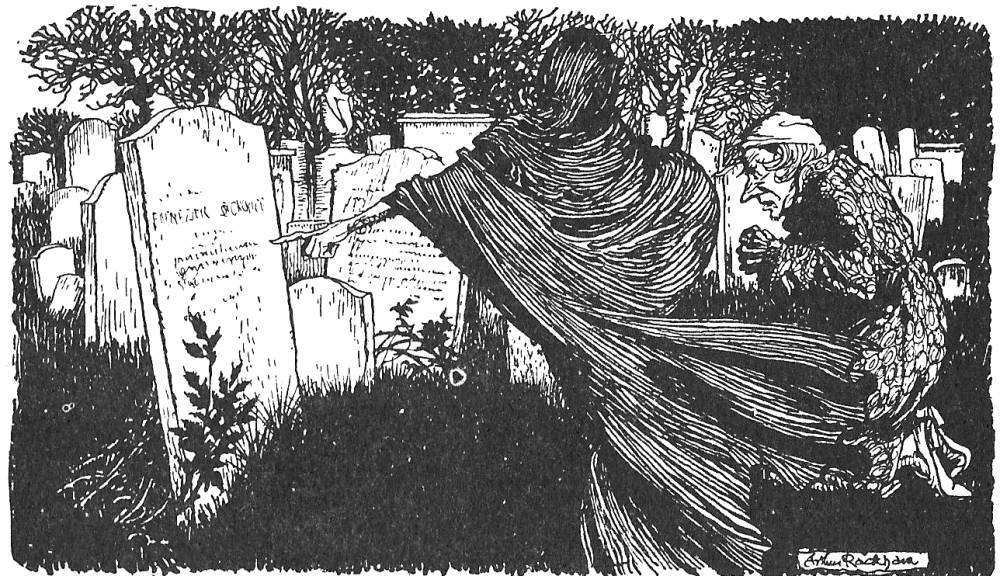 "Spirit!" he cried, tight clutching at its robe, "hear me! I am not the man I was. I will not be the man I must have been but for this intercourse. Why show me this, if I am past all hope!"
For the first time the hand appeared to shake.
"Good Spirit," he pursued, as down upon the ground he fell before it: "Your nature intercedes for me, and pities me. Assure me that I yet may change these shadows you have shown me, by an altered life!"
The kind hand trembled.
"I will honour Christmas in my heart, and try to keep it all the year. I will live in the Past, the Present, and the Future. The Spirits of all Three shall strive within me. I will not shut out the lessons that they teach.
It is a thoroughgoing repentance, and the selfish sinner turns generous benefactor in the end: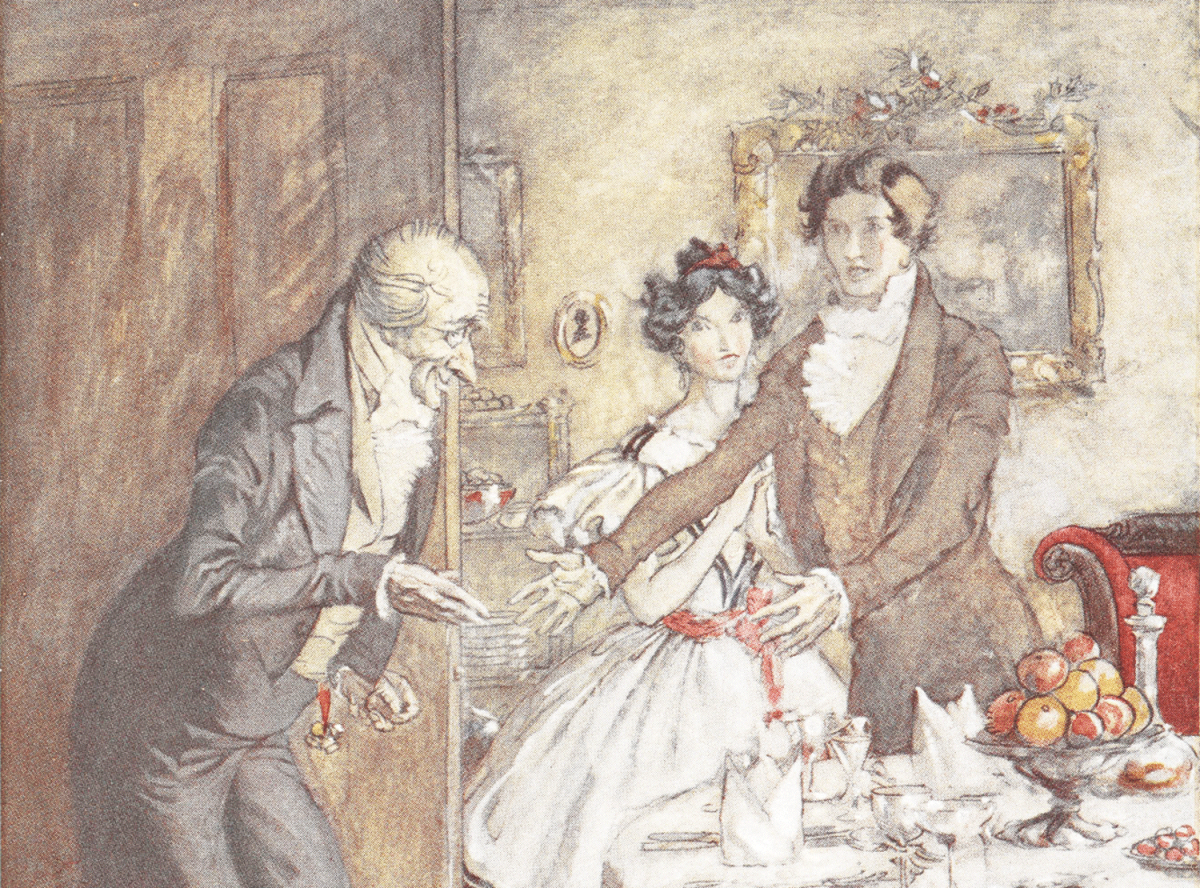 Scrooge was better than his word. He did it all, and infinitely more; and to Tiny Tim, who did NOT die, he was a second father. He became as good a friend, as good a master, and as good a man, as the good old city knew, or any other good old city, town, or borough, in the good old world…and it was always said of him, that he knew how to keep Christmas well, if any man alive possessed the knowledge.
We thought Dickens did a far better job than we of laying out the case for a generous heart this Christmas season. You'll find—as the repentant old miser did—that it is, in fact, far more blessed to give than to receive.
(Editor's note: all images are work done by Arthur Rackham)