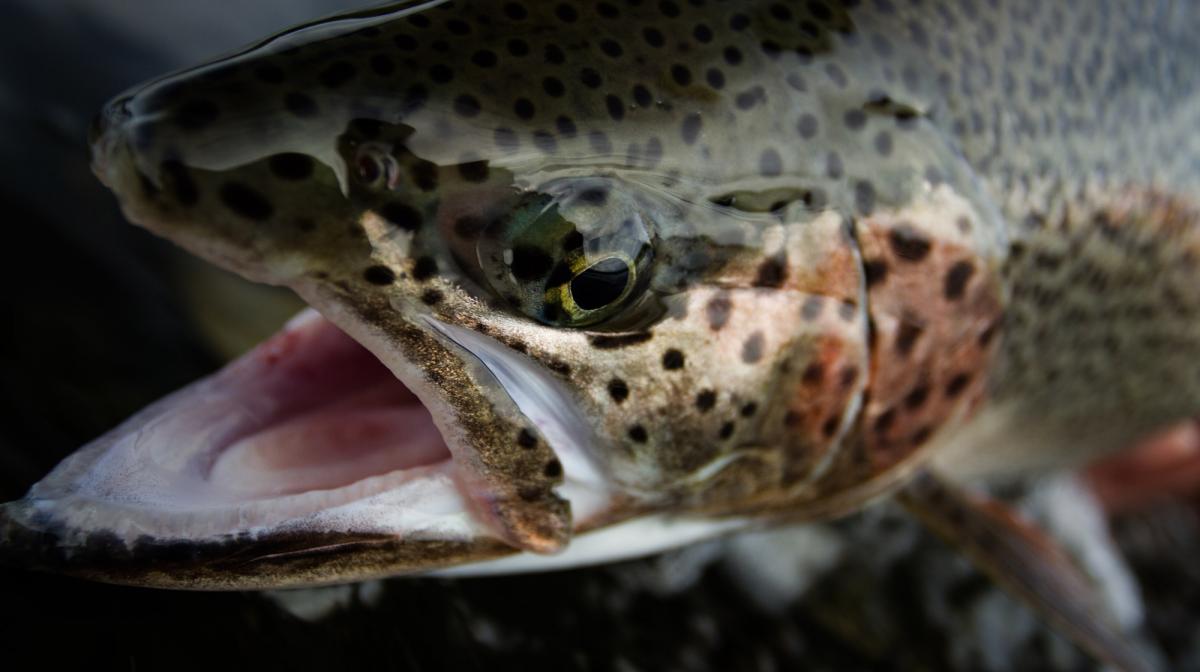 The ice is finally breaking up on the Yellowstone; the Arkansas is flowing clear. The winter of our discontent is almost over. The great outdoors is opening up again, including the lakes and rivers, which means only one thing: we can finally break out those five weights.
I don't mean to say we didn't try fishing last November, or that we didn't try again in January while the Yellowstone swallowed our beadheads in chunks of ice marauding downriver. I confess to trying in March as well, nymphing away at thawed sections of the Arkansas in waders and long johns and low-grade defiance. But the Colorado is breaking out from a five-month sleeper hold and we can move back to the river, looking out for baetis hatches and bears and guides having drunk away the off-season.
So, in order to re-awaken your passions and remind you why you ought to be making plans, we want to bring you some river-born beauties, close as any article can get to a brook trout. Beauty, like wildness, is a necessity. Beauty reminds us of the kind of world we occupy and the kind of things that are possible in it. No mistake, winter does make wildness immediately accessible (and cutthroat). There is nothing like a storm to set off a mountain. But most of the time, winter is a lull, the quiet, and it tends to make our worlds small, our primary drive couches and basketball games and coziness. And that shift can, in turn, make the world seem a less wild place, the actions in it less dramatic and less redeeming.
Enter beauty, to get you ready for rivers, oceans and wild. Our world is extraordinary, and desperate, and there ain't nothing going to say that quite so well as a steelhead, tarpon, or 21" rainbow. Check out these fly-fishing photographer's websites; the beauty alone will heal your soul and bring inspiration to all those winter-lost dreams.
Here's lifelong fisherman Matt Harris. It might be the near-criminal size of his own catches, or the fact that he lives in London, but when it comes to the frame of trout and longing and wilderness, Harris nails it.
Then there's the photography of Adam Tavender, a flyfisherman based in the Canadian Northwest and a real mensch. Tavender's breathtaking images focus on the rivers near his home and the steelhead that inhabit them. It's imagery to soothe the soul.
And, assuming you'd really like to wreck yourself for every purpose outside flyfishing and trash your 9-5, take at look at Yellow Dog Fly Fishing's annual online catalogue. We get lost in this baby every spring. Ignore the price tags—this is about the images, the destinations, the wild adventures calling:
And of course, there's Seacat Creative and Jordan Gill, the photographer responsible for our issue cover and for the bruiser of a 'bow included in this article. Seacat creatives specializes in high-end video production of the wilderness, and their imagery is stunning.
It's a thaw, and just in time. Right before we forgot the utter deception of the Parachute Adams, the sun is out, and the water of blocked rivers with it. Like reviewing your conscience before confession, use these photos to get your heart ready to wet wade.