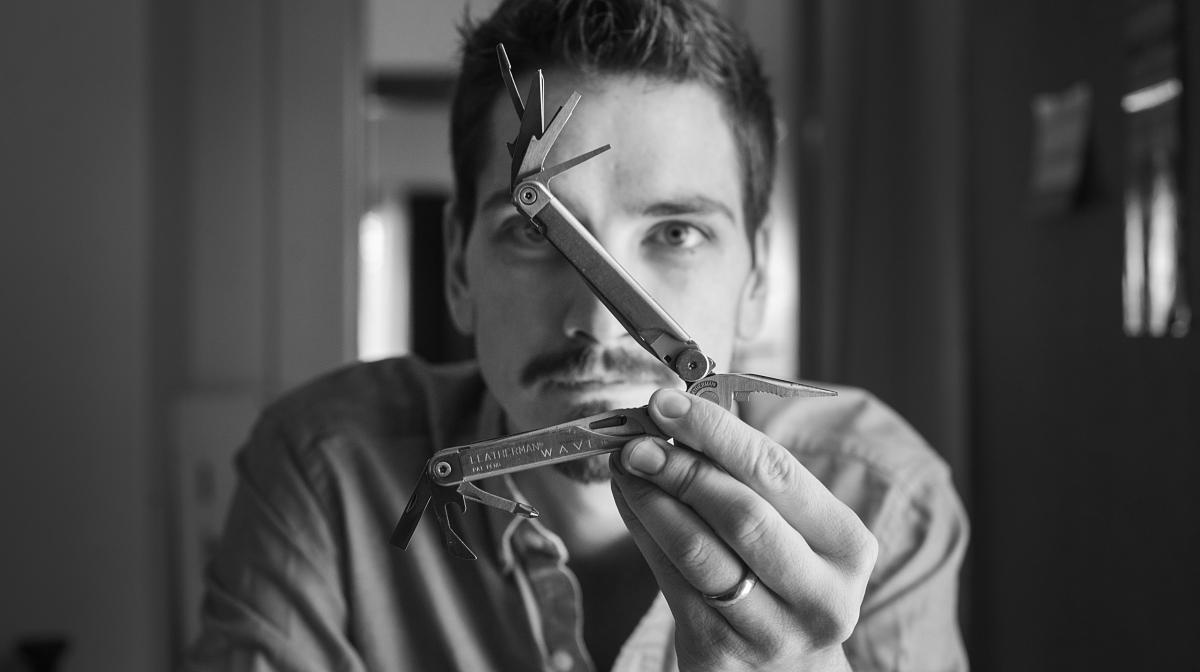 "The satisfactions of manifesting oneself concretely in the world through manual competence have been known to make a man quiet and easy. They seem to relieve him of the felt need to offer chattering interpretations of himself to vindicate his worth. He can simply point: the building stands, the car now runs, the lights are on. Boasting is what a boy does, because he has no real effect in the world." -Matthew Crawford, Shop Class as Soulcraft
When I was in college I owned a standard pair of old jumper cables and a can of Fix-a-Flat. So, no tools worth speaking of. Some of the more "manly" guys I knew had toolkits in their trucks and would talk about how useful their new plummet had been. From context, I figured that this was not a fruit, and also that I should leave the conversation before someone asked my opinion on the matter.
As our world becomes more "advanced"—meaning, wildly more complicated—our things start to own us, simply by our ineptitude to fix a broken piece or even to know where to start. We turn a blind eye. Because it's uncomfortable, and who likes feeling incompetent? Pocket technology is an easy example of our inability to intervene in the structures of our own lives: should I attempt to repair a cracked screen on my own, I void all warranty.
But really, my iPhone doesn't hold a candle to the kind of practical incompetency I feel looking at a car engine. It's a foreign territory, and my inability to handle it is assumed, evidently, as the engine itself vanishes nowadays underneath cosmetic fittings. Just try to find the cause of that glowing engine light. So far as I can tell, there's no engine underneath the hood.
I have grown more and more detached from basic realities, like knowing where things come from… and how to fix them. We don't all need to be handymen, but we all need to be rooted in reality and regain some ownership of the world, a basic competency essential to manhood since sword and plough were thrust into our ancestor's hands.
As I continue to wade into the waters of my twenties, I have made an attempt to build a toolkit. I have done so in order to learn to rely on myself, to attempt to fix what is broken and learn from my mistakes. What I have now is an odd assortment of tools inside a fabric bag. It's hardly coherent. But it is demonstrably pragmatic. So, as an illustration of those basics we should probably have access to, here it is: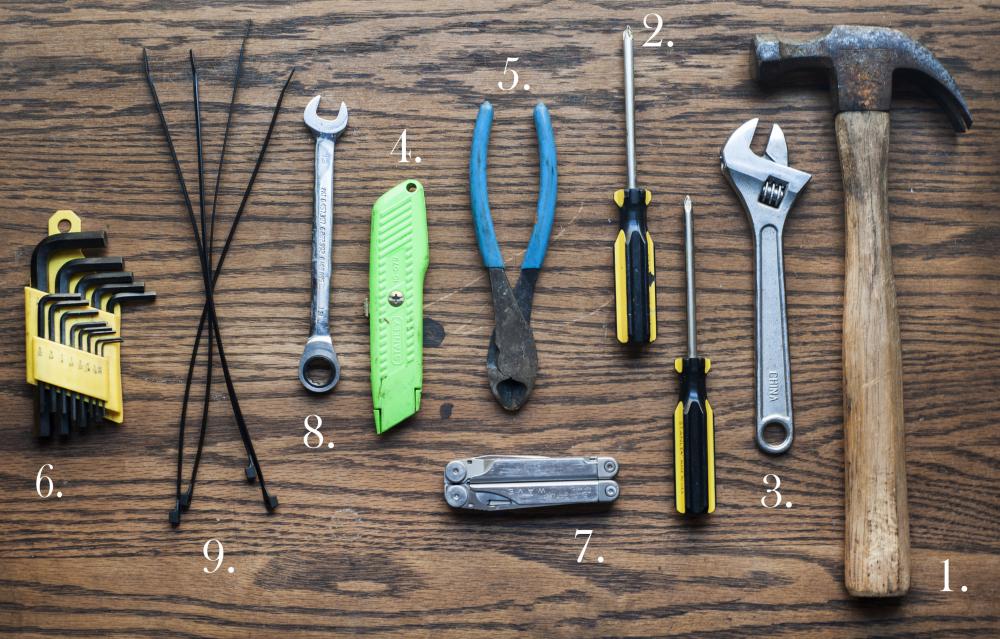 1. A claw hammer. This looks to be several decades old and I remember snagging it from beneath my dad's cluttered workbench. It's too small to do much with, but comes in handy when I tell myself, "I own a hammer."
2. One flathead screwdriver. One Phillips-head screwdriver. Because, duh. These things are like pennies. You find them on the side of the road and usually use them for everything without really noticing. No, wait—I have two Phillips-head screwdrivers and can't find my flathead.
3. A crescent wrench. This adjustable contraption is one of the most iconic pieces of steel made by man, and while I have seen some large enough for Paul Bunyan to use to install a suspension bridge, mine is much more modest. I think I used it to kill a squirrel once.
4. One bright green safety knife. The color doesn't really matter. This thing is great for cutting boxes and nylon cords and fingertips. The name is a classic misnomer, but then, scars are manly.
5. A pair of medium-sized wire cutters. I don't know why.
6. A standard Allen wrench (hex key) set. These little black wonders have come in handy more than anything else I own, probably. It seems that everything from IKEA to my old VW had all sorts of bolts and screws only a hex key could unlock.
7. A Leatherman. Okay, I lied. This thing has been the most useful. With needle nose pliers, a couple knives, screw heads, bottle opener, and espresso maker, this guy has seen me through thick and thin. Plus, whenever my car breaks down, I've found if I whip this out and open my hood everybody assumes I know what I'm doing.
8. One size 13 ratcheting wrench. I've been amazed at how many bolts are size 13. Like, all the ones I can adjust.
9. Lastly, for whatever reason, I have a set of black zip ties. Yeah. Like the kind some cops use these days, only the last time I used these was to buckle my carburetor (or what I assume was my carburetor) down until I could make it into the shop.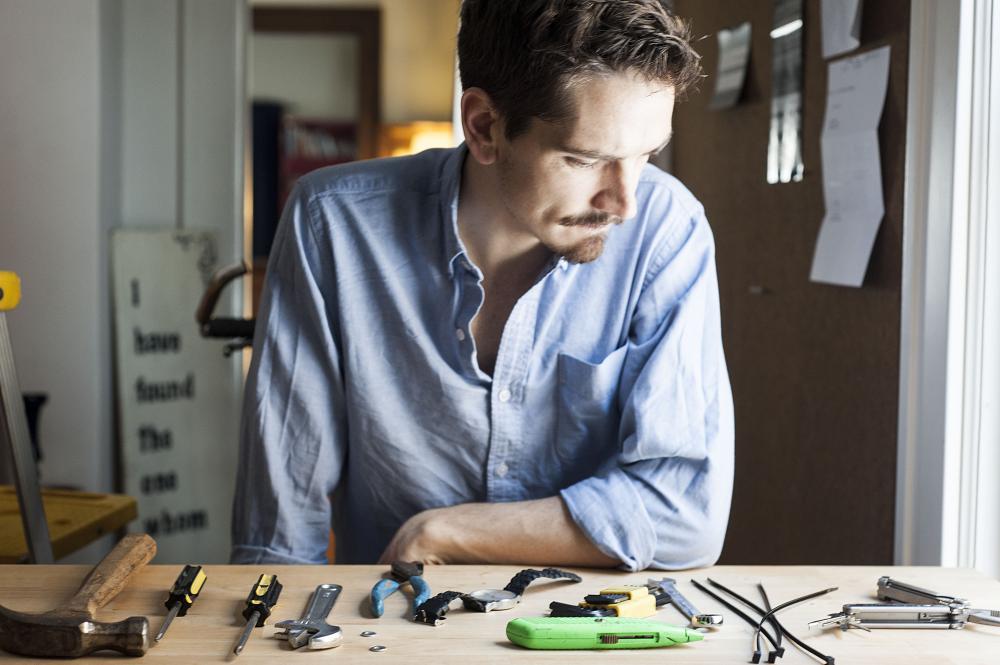 That's it. I don't feel very equipped, but it's a beginning. I know some guys will go out and buy the 180 piece set made in China (and never open it), but I prefer piecing together a solid toolkit because it comes with a sense that I can handle stuff. A new tool forces you to learn how to use it. Fixing things yourself instead of hiring someone out has some seriously powerful effects on a guy.
It's also cheaper. Add the sense of competency this will bring, which is huge, given its reversal of practical impotence, and it's worth anything. For me, I've enjoyed stepping out of my comfort zone in the space of my own rental. I'm not going to look like an idiot out on a job. It's just me and the sea of tutorial videos. And it feels really good to fix stuff. If I could round out my toolkit, here is what I would add:
A Tape Measurer. For all my measuring needs.
A Stud Finder. To find those structural boards in your walls that are necessary to hang big stuff.
A level. Eyeballing just isn't cutting it.
A cordless drill. To feel manly.
A bottle opener. Beer after work tastes better than beer without working. Seriously.
Whatever the hell a Plummet is.
And I should probably get the rest of that ratchet set.